Councilman Brian Hatmaker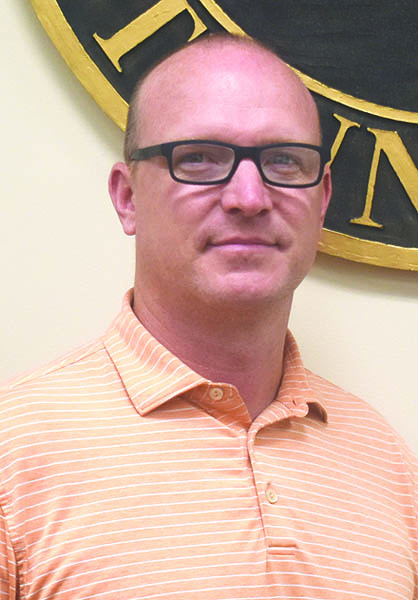 "I feel like things are going well with our city," says Clinton City Councilman Brian Hatmaker.

He currently wears three hats. In addition to serving as an elected official, he works for University of Tennessee Hospice and has his own business.

What started out for Hatmaker as a home brewery ended up as Orange Hat Brewing in Hardin Valley.

He is a Clinton native and a 1995 graduate of Clinton High School. He earned a degree in physical therapy from Tennessee Wesleyan University in Athens while playing baseball for the school.

He and his wife, who is a schoolteacher, have been married for 23 years and have two sons. They belong to Memorial United Methodist Church.

When asked why he became an elected official, Hatmaker replied that before his election he felt that he and his wife were already in public service because of their vocations.

Several friends, including an outgoing city councilman, urged him to run for the council. "I felt like I was compelled to know the function of city government," he said.

Hatmaker is in his third term. When he took office, Clinton was in bad shape financially. The financial situation is much better now. Becoming debt free is Hatmaker's main priority, and the city is now on track to reaching that goal by 2026.

When asked if the council would do things differently once the city becomes debt free, he replied, "We've never been in that position before. We will look for opportunities to give back to the community."

Hatmaker calls becoming debt free, which should occur near the end of his present term, the light at the end of the tunnel. At that time, he intends to step down to devote more time to his family, he said.

"I am a firm believer in term limits," Hatmaker said, even though the council positions are not bound by term limits. He feels that term limits give more people a chance to participate in city government.

While City Council members have healthy disagreements, Hatmaker said they work well together because of mutual trust and flexibility.

"The pace of our growth is a challenge," Hatmaker said, adding, "Our growth has a lot of potential."

He noted that older people and younger people tend to look at growth challenges differently.

Before he steps down, Hatmaker would like to see a lot of projects completed. He mentioned specifically the swimming pool at Jaycee Park.

He would also like to see an increase in municipal services, including police and fire protection.

"They are front line," Hatmaker said.

"They are the ones that should be put on a pedestal."

He feels all city employees should be taken care of, noting the recent pay raises the council gave to city employees.