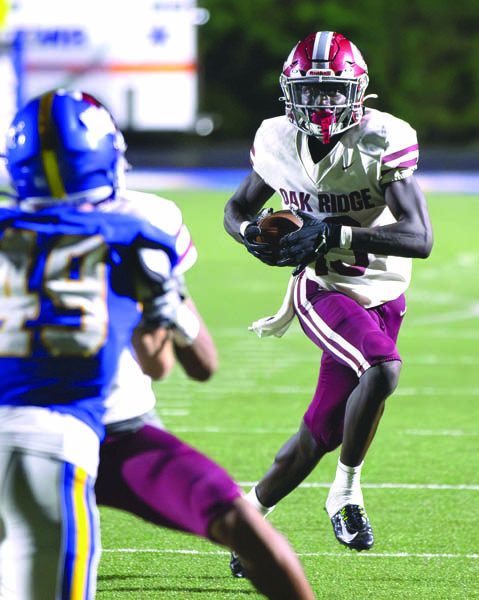 The Oak Ridge Wildcats opened their Region 5-3A football schedule Friday night, winning on the road at Karns.

The Wildcats used 157 rushing yards from De'Jauvis Dozier and 136 yards receiving from Brandon Heyward to waylay the hosts for a 41-0 win.

The 'Cats move to 3-0. They will travel to Athens to take on McMinn County this Friday in a non-region tilt. Friday's game will be the second of a five-game stretch of road games for Oak Ridge.

The Wildcats came out of the gates early when Heyward picked off a Karns offering and set up a short field for the visitors.

Sophomore Blaine Stansberry connected on the first of his three touchdown tosses less than two minutes later, and after Eli Pearson's kick, the visitors held a 7-0 lead.

Oak Ridge wouldn't score again until about two minutes into the second quarter when Dozier got the first of his scores.

Pearson made the score 14-0.

The Wildcats struck quickly after a Karns punt, Stansberry connecting for a 40-yard score. The PAT was off and the 'Cats took a 20-0 lead into the half.

Oak Ridge dominated the early third quarter — big runs from Dozier, a couple of nice toss and catches, but turnovers cost the Wildcats any points.

The Beavers didn't fare any better. They moved the ball against the Wildcats, but had trouble converting on fourth down.

Finally a combo of a Stansberry to Heyward pass and a Dozier run put the Wildcats on the scoreboard in the third quarter with a little over three minutes to play.

Pearson's kick gave the Wildcats a 27-0 lead.

Karns attempted a field goal late in the third quarter, but didn't split the uprights.

The Wildcats opened the final frame with Stansberry's third passing touchdown, and Pearson's PAT made the score 34-0. The final scoring came with six minutes to play in the game when Ryker Armes broke free for a 11-yard TD.

Maximus Minnow hit the point-after kick for the final score.