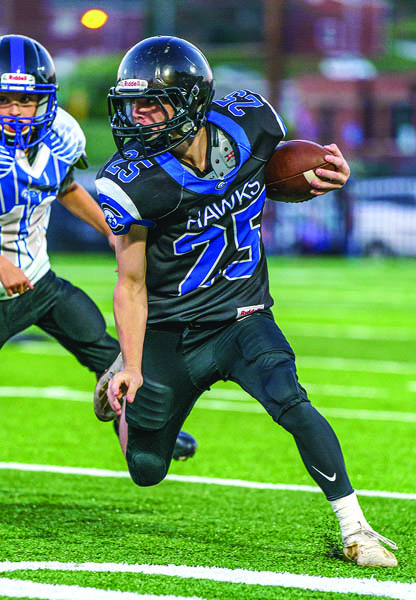 A pair of long touchdown passes from Brenden Hayden to Austin Phillips wasn't enough to propel Clinton Middle School to victory against Lenoir City Thursday night.

The Hawks came up on the short end of an 18-14 decision, and CMS Coach Eric Woodard was disappointed.

"Brenden threw two long touchdown passes to Austin Phillips, and Camryn McCaffrey had an interception, and that's about it as far as highlights are concerned," Woodard said. "I'm not usually a should've kind of guy, so I'm not going to say that we should've won.

"But I'll definitely say that we could've won the game. Our kids played hard, but we just didn't execute when we needed to."

The Hawks return to action Thursday night when they host Jefferson. Kickoff is at 7 p.m.

Jefferson picked up its first win of the season last week as it outlasted Christian Academy of Knoxville, 54-52, in double overtime.

It's taken the Clinton Middle School football team five games this season to triple its win total from the previous three years. The Hawks notched their third win of the 2023 campaign with a 46-0 victory over Cosby Thursday night.

The Hawks, who went 1-23 over the past three years and were winless last season, had a big night last week as they improved to 3-2 on the season. The victory also culminated a homecoming celebration.

"The kids played really well against Cosby," Woodard said. "We're all still learning. I'm trying to get used to them and they're trying to get used to me."

Clinton had a 22-0 lead at halftime as quarterback Brenden Hayden threw a pair of touchdown passes. He connected with Easton Gilliam on a 22-yard strike. He closed out the first-half scoring with a three-yarder to Austin Phillips.

Junior Ward also had a 35-yard touchdown scamper, and Clinton made two of three two-point conversion attempts, with Hayden passes.

Quarterback Ethan Bennett entered the game after halftime and threw a 43-yard scoring pass to Hayden Ferguson, who also had an interception on defense.

Camryn McCaffrey and Colton Wright had touchdown scampers for the Hawks after halftime.