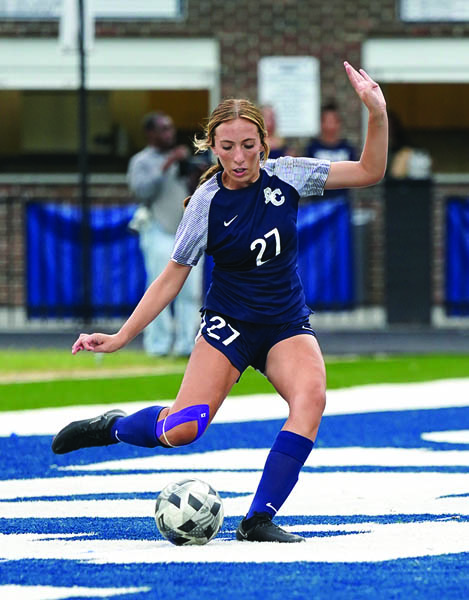 Anderson County High School now has the upper hand in the District 4-AA standings as they picked up a pair of key league victories last week.

The Lady Mavericks (8-3-1 overall, 3-0 in district play) edged Gibbs 3-2 Thursday night at Ernest Whited Stadium in Corryton.

The Lady Eagles have been a competitive force on the Class AA soccer scene, and ACHS Coach Chris Curtin knew that Gibbs would be the toughest challenge this year since joining the league this season. The Lady Mavericks and Lady Eagles have a longstanding rivalry.

"Gibbs will be our toughest competition in the district," Curtin said earlier this season.

And this was the case. The Lady Mavericks have one more district match (against Union County) later this season and the Lady Patriots lost, 4-1, to Clinton at home Monday.

Emma Leander scored twice Thursday night and Zoey Rose added a goal. Gracie Underwood kept things close for the Lady Eagles, who entered the game on a long winning streak, as she found the back of the net twice.

Curtin said he was pleased with his side's effort at Gibbs, which avenged a 5-1 loss to the Lady Eagles at Tommy Schumpert Park in Halls last season.

"I was pretty pleased," he said. "Gibbs is a tough team. They play hard and they fought us until the final whistle.

"The Gibbs game was closer than I would've liked. They took advantage of our mistakes and scored."

ACHS opened the week with a 7-0 victory in an in-school match against crosstown rival Clinton on Tuesday, Sept. 12.

Leander had a trick against the Lady Dragons.

Rose scored twice, while Bralee Hall and Gracie Harris also scored for Anderson County.