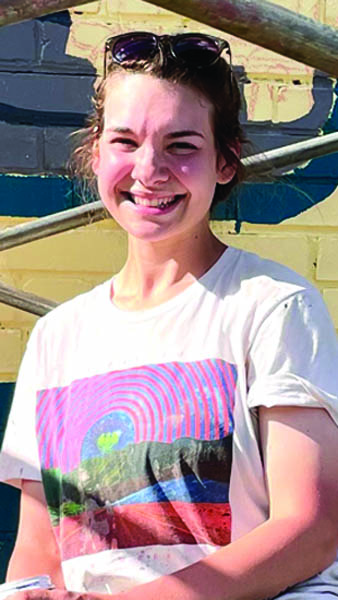 Multimedia artist Casey Davey of Oak Ridge last week began work on a two-story-high mural on the outside of the new Coal Creek General Store, which the owner has commissioned as a tribute to the city and its history.

The mural is on the south side of the store's building, at 331 S. Main St.

It says "Rocky Top" in big, hollowed-out letters, which are being filled in by a mountain scene, as well as scenes from Norris Dam, local railroads, coal mines, and the Windrock off-road park.

Davey said she was asked to paint the mural after first reaching out to the store's owners about selling some of her pottery there.

Jason Deel, who owns the store with his wife, Natalie, said in August that he had begun a "Go Fund Me" account online to try to raise $8,500 for the painting of the mural.

The section for the mural had already been designated by a base coat of yellow paint, and it stands more than two stories high, beginning at ground level.

"Rocky Top is more than just a town; it's a tapestry of stories woven together by the people who call it home," Deel said on the Go Fund Me page.

As of Monday afternoon, only $410 had been raised.

"Why a Mural? This mural will be more than just a beautiful piece of art – it will be a symbol of unity, culture, and pride," the post says.

"It will transform a blank canvas into a testament of our history, aspirations, and shared identity. This isn't just about paint; it's about creating a lasting legacy that generations to come can admire."

Deel said he wants "a magnificent mural to life that captures the heart and soul of Rocky Top."

The post says the money is needed to help cover "the costs of materials, artist compensation, and all the essential elements that will bring this mural to life."

"The Vision: Imagine a mural that tells our stories: the struggles we've overcome, the triumphs we've achieved, and the spirit that keeps us moving forward," the Go Fund Me page says. "It's a place for locals and visitors alike to find inspiration, snap photos, and truly feel a part of something bigger."

Those who contribute – "whether it's $10, $50, or any amount you can spare" – will "become a vital brushstroke in this communal masterpiece," the post states.

To see the Go Fund Me post and contribute, go to: gofundme.com/f/mural-for-coal-creek-general-store?member=29177845.

Davey said her goal is to have the mural finished by this Saturday (Sept. 30), when Coal Creek General Store will be holding its grand opening from 11 a.m. to 4 p.m.

See more pictures of the mural on Page 3A in today's paper.