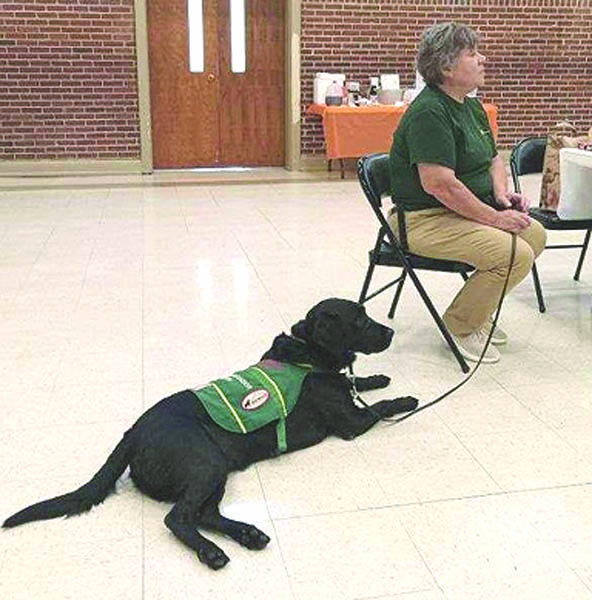 The Anderson County Family Communications and Education Clubs met for their annual Fall Fling on Sept. 7 at the Community Center in Clinton.

The purpose of the meeting was to review the projects and volunteer work of the year, welcome new members, renew old friendships, elect county officers and the Soup Queen of the Year, and see a program presented by Laura Brit and Smoky Mountain Service dog Winston.

County club president Judy Cohan called the meeting to order with a recitation of the club's creed and the song "God Bless America" led by Joyce Beets.

Cohan made announcements and thanked members for their participation and success at this year's fair. She asked volunteers to make cookies for the upcoming Farm Day and to save cola bottle caps to be donated to a local school for the purpose of having a bench made. Free books donated by Marilyn Parsons were available.

There is one scholarship open to anyone who wants to attend the Regional FCE Conference in November. Sharon Clapp has the information. Vicki Long was elected county president, Judy Cohan as vice-president, Deborah Carroll as treasurer, and Joyce Beets as song oeader.

Lunch and the "Best Soup Contest" began with a blessing by Bobby Griffin. Four members who entered soups were: Ruby Hutchenson, Griffin, Mary Foust and Denise Sisson. After bowls were empty and bellies were full, members voted.

Denise Sisson was elected first-place Queen of Soups, with a $10 prize. Mary Foust and Bobby Griffin were tied for second place, with $4.50 each, and Ruby Hutchenson was third for $8.

In keeping with a club goal of continuing education, the program for the day was a presentation by Brit and ambassador service dog Winston.

Brit's presentation was possibly the best program seen by the clubs this year. (See more about Winston's amazing abilities in a separate article).

Brit spoke about the service dog orgnization, providing its history, goals, and achievements, and allowed Winston to demonstrate many of his skills. FCE members were so touched by Brit and Winston they passed a hat for donations to this outstanding pair.

Everyone in Anderson County is welcome to join FCE. If you enjoy fellowship, fun, and food, while being of service to your community, this is the club for you. Yearly fees are $20. Contact Vicki Long, 865-705 3888 or blong4875@comcast.net for more info.