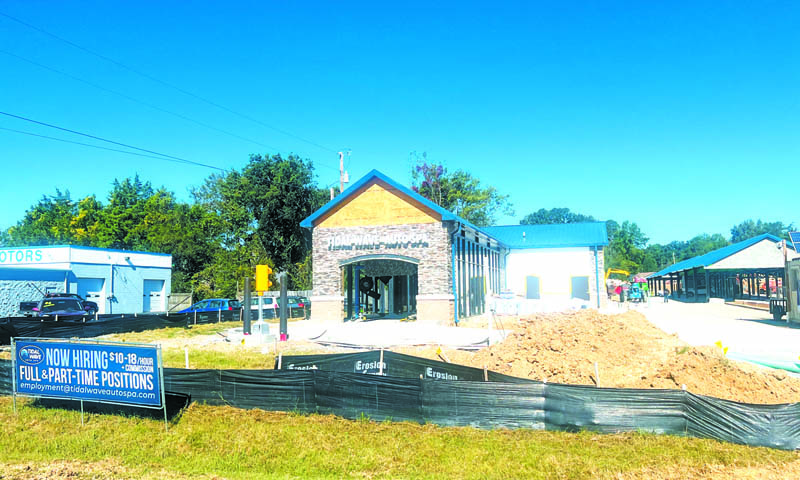 After spending a few months of clearing, grading and fill work on the lot, the contractor moved fast on putting up the building and installing equipment for a new carwash on North Charles G. Seivers Boulevard.

The building housing the Tidal Wave Auto Spa, next to Arby's, is now nearly finished, equipment has been installed, signs have been erected, and hiring has begun.

According to a banner posted in front of the building, "Full & Part-Time Positions" are available, with pay ranging from $10 to $18 an hour, "plus commissions."

Prospective employees are asked to apply by email to employment@tidalwaveautospa.com.

Company officials have still not announced a projected opening date for the business, but it is expected to be sometime in October or early November. Company officials have yet to reply to emails and telephone messages from The Courier News over the past several weeks seeking further information.

The Georgia-based company obtained a building permit in February for the $3 million project, which sits at the corner of N. Charles G. Seivers and Doe Run boulevards in Clinton.

Anderson County property records show that TWAS Properties, LLC, of Thomaston, Georgia, bought the 2.71-acre vacant lot last Nov. 14 for $1.75 million.

The location is on the north side of Seivers Boulevard between Arby's and City Limit Motors, near Interstate 75 Exit 122. The Tennessee Department of Transportation has a new traffic light in place, but not yet operating, at that intersection.

According to its website (tidalwaveautospa.com), Tidal Wave Auto Spa is "one of the fastest-growing conveyor car wash companies in the country." As of this week, the company had about 180 locations in 23 U.S. states.

The website shows that 14 Tennessee locations have opened so far, and the 15th will be "opening soon" in Millington. The store locator on the website still does not show the Clinton location, even as a "coming soon" site.

Tidal Wave Auto Spa was founded in 1999 by Scott and Hope Blackstock in Thomaston.

The company's website notes:

"[Tidal Wave] is committed to providing every customer with an exceptional car wash experience with clean and attractive locations, the highest-quality car washes, and friendly customer service at every location.

"[Scott] Blackstock's background in chemical engineering has paved the way for Tidal Wave to be an industry leader in developing innovative car wash technology. In 2022, the company launched Graph-X4 as [its] premium wash option across all locations – combining the strength of graphene oxide and ceramic sea gloss coating for the ultimate shine and four layers of iron-clad protection."

The company says it "offers single-wash options and unlimited wash memberships to fit any budget."

"Customers planning to wash more than once a month can save money by joining any of Tidal Wave's Clean Club unlimited wash membership options," the website says. "Wash every day of the month for one convenient monthly payment and save time with exclusive club member wash lanes – plus, memberships can be used at any Tidal Wave location."

The company also offers discounted membership plan options for families and fleet plans for businesses needing to wash multiple vehicles.

The Tidal Wave locations are open daily from 8 a.m. to 7 or 8 p.m.