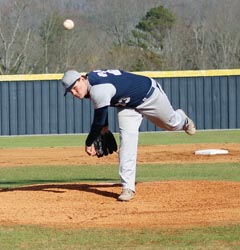 The Anderson County Mavericks rode a hot start by Ryan Moog to an 11-3 win over visiting Union County on a very cold Wednesday afternoon.

Moog went four and two-thirds, surrendering only one run on two hits with 10 strikeouts and two walks.

The Mavericks opened scoring in the bottom of the first when Thomas Sexton reached on a walk and stole second. He scored when Jonathan Hodge dropped a sacrifice bunt toward third. With a close play at first base, Sexton raced from second and around third and slide home to make it 1-0.



In the bottom of the third, Anderson County extended its lead when Rhett Bowling was hit by a pitch and Zeke Meyers singled. Denver Hubbard then walked to load the bases. Trey Noe bounced into a fielder's choice, scoring Bowling but forcing Hubbard at second. Caleb Wilhoit then singled to score Meyers and advance Noe to third. Moog then singled in Noe to make it 5-0 in favor of the Mavericks.

In the bottom of the fifth, Andy Fox reached on an error and Bowling walked. Fox went third after tagging up on a fly ball to center by Meyers. Hubbard reached on an infield hit to load the bases. An errant throw to first on a pick-off attempt allowed Fox to score to make it 6-0.

The Patriots rallied with two-outs in the fifth when they picked up three runs on an inside the park home run to make it 6-3.

Anderson County answered with five runs in the bottom of the inning. Hodge led off with a walk and Fox was hit by a pitch. Bowling then drew a walk to load the bases. Meyers singled to drive in two runs. Hubbard then walked to load the bases again. Noe stepped up and doubled to right, clearing the bases, giving the Mavericks an 11-5 lead.

Neither team scored the rest of the way and Anderson County earned a big early season win.

At the plate for the Mavericks, Meyer was 2-5 with two RBI while Noe was 1-4 with a double and four RBI.

In addition to a great pitching performance, Moog was 2-4 with an RBI. Hodge and Wilhoit each picked up an RBI as well.

"Ryan really threw it well on a real cold night. I told him in school today he was going to be starting. I told him, 'It's a good pitcher's day.' And he had a good night," said Ben Downs, head coach of the Mavericks.

He said the offense is not where he would like it yet, despite scoring 11 runs.

"You know, 11 runs on eight hits is always good but we could swing it better," Downs said.

Anderson County knocked off Knox Central Monday evening by a score of 4-3 to earn a district win.

The Mavericks plated two runs in the fifth, and added a run in the sixth to lead 3-0. The Bobcats rallied with three in the top of the seventh to tie the game but the Mavericks pulled it out in the bottom of the seventh as Jonathan Hodge drove in the winning run.

Chase Elkins got the start and the win as he went the distance.

No other stats were available at press time.

The Mavericks return to action this weekend in the Ootelwah Invitational. On Friday, they will play Columbia Academy at 4:30 p.m. and Murfreesboro Central Magnet at 7 p.m. Both games are at Ootelwah High School.

On Saurday, Anderson County will play Franklin County at 11 a.m. at Soddy Daisy High School and will then play South Pittsburg at Chattanooga Central at 3:30 p.m.

The Mavericks visit Gibbs on Monday at 7:15 p.m. and will host the Eagles on Tuesday, also at 7:15 p.m.