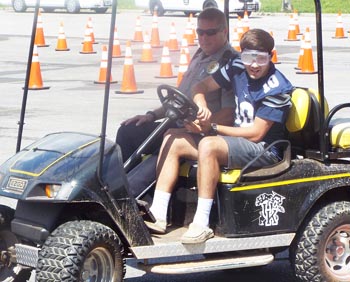 Drive safe.

Drive sober.

As many as 700 students — grades 9 through 12 — participated in a Driving Under the Influence (DUI) simulation event co-hosted by the Anderson County Sheriff's Department School Resource Unit, Allies for Substance Abuse Prevention of Anderson County (ASAP), and Anderson County Schools.



Held at Anderson County High School last Friday in the back parking lot students wore DUI simulation goggles while driving golf carts through a makeshift driving course to experience first-hand the effects of driving under the influence.

They also participated in field sobriety tests.

The goggles simulate different levels of blood alcohol in the human body to give a true to life experience.

It was the first ever event of its kind in regards to its scale, said ACHS Assistant Principal Gary Terry, on Friday.

"We haven't done anything like this on this scale before, and I think it's going to have a big impression on the students," said Terry.

He said school officials initially wanted to focus on educating students about the importance of safe and sober driving on prom night, which was Saturday, April 22, but it changed to include a larger focus on safe driving in general, no matter what conditions and time of year.

"It's a great time of the year to remind students to be safe, whether they are going to the prom or not. The aim is to raise awareness among the student body of the importance of staying safe on the roads. Students are going to drive the golf carts wearing the DUI simulation goggles and compare driving abilities for a first-hand experience of what it is like driving impaired," Terry said.

Anderson County High School Resource Officer ACSD deputy Shawn Bannach, SRO Sergeant Wendy Garrison, and SRO Deputy Kim Lay coordinated the event.

A media release from the Anderson County Sheriff's Department reported a number of local law enforcement, school, community, and emergency personnel organizations participated in the event: the Tennessee Highway Patrol, Clinton Police Department, Anderson County EMS, Anderson County Rescue Squad, Andersonville Fire Department, Clinton Fire Department, and Lifestar.

"This event was held today as proms for both Anderson County and Clinton High Schools are tomorrow evening. All of our students attending proms are reminded that the Anderson County Sheriff's Department, the Tennessee Highway Patrol, and our local law enforcement agencies will be out in force to keep our roads and highways safe and accident free," the media release stated.

ACSD Chief Deputy Mark Lucas, who was on hand for the event, said each year ACSD steps up enforcement this time of year, and that extra deputies and troopers would be on duty Saturday, patrolling the roads and highways.

Also in attendance was Stacey Pratt of ASAP. DUI simulations help students experience hands-on — and visually see — the impact of impaired driving on one's cognitive abilities, and the danger its poses.

"It's important for students to see the impact impaired driving can make," Pratt said.

Austin Miller, an ACHS senior, who was one of the first students to participate in the DUI simulation, commented that the experience was good at demonstrating "what to do and not to do" on the road.

"All of the students who were 'tested' could see how alcohol and drugs can seriously impair driving and coordination," reported Lucas.