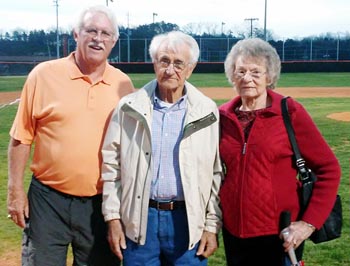 He's older now and his body is frailer than it once was. And yes, his memory can be a little fuzzy at times and maybe his voice doesn't ring as loud as it once did.

But his 83-year old eyes still possess the glint of admiration and respect for the school and community he once served. Then again, maybe it's the reflection from the faces of those Jay Nidiffer once coached at Clinton High School.

Nidiffer and his wife Katie attended Alumni Night last Monday at the Powell-CHS game at the Anderson County Fairgrounds.

"I have a great feeling for these people [alumni]. They mean a lot to me and it's always good to come back here," he said.

Nidiffer coached basketball, baseball, and even some football during his tenure at CHS from 1962-1970. Many of his former players attended a reception with the Nidiffers prior to the game and as well attending the ceremony prior to the start of the Clinton JV game.

It was a job as assistant basketball coach at Mercer University that led Nidiffer away. From there, he served as an assistant coach at Georgia Tech and then a stint as an assistant coach at Auburn with former head coach Sonny Smith.

"We were two and a half minutes away from going to the Final Four," Mrs. Nidiffer said.

From there he went to East Tennessee State University as an assistant basketball coach.

He also spent two stints as athletic director at his (and his wife's) alma mater - Lincoln Memorial University - where he once played baseball and basketball. His term at LMU came at a critical time in the history of the school as they transitioned from the NAIA to NCAA Division II. In 1990 he was inducted into the LMU Hall of Fame. His second term as AD at the Harrogate school lasted from 2003-2008.

Even after he retired from LMU he worked as assistant basketball coach to Bill Carlyle at Walters State Community College.

"I can sit down and talk to you all day about my coaching days at Clinton," he said.

Among his fondest memories was coaching Raleigh Boulware, the first African American athlete at CHS. Two of Boulware's sons, Raleigh, Jr. and Peter, went on to careers in the NFL. Nidiffer said he still maintains regular contact with Boulware, who is now a pediatric oncologist in Columbia, S.C.

"I stay in touch with a lot of my former players," Nidiffer said.

Flanked by Alvin Taylor and E.T Stamey, each said Nidiffer was responsible for who they are today.

"I'm collecting for what I've done," he quipped as both men laughed.

"He was a big influence on my life. I went to college on a baseball scholarship. He was my high school coach and he's the man," said Stamey.

"He did a baseball camp one year while he was coach at Clinton and I was still playing and he asked me to help. I guess it was the first job I ever had playing ball. He gave me $20 for the week and it was the proudest day I ever had," Stamey added. "I still laugh about the times we had in high school."

"He taught me a great deal and was a big influence on me. He coached me in baseball and basketball both," Taylor said.

Mrs. Nidiffer said the job from Mercer was the only one that could pry him away from Clinton.

She also noted proudly that he never had to apply for any job he ever held — they were all offered to him. He did apply for two or three jobs but was not hired for any of them. She pointed out those programs did not win.

"They would have if they would have hired me," he said.

Mrs. Nidiffer said that each time he took a new job she was able to find a job wherever they moved. She credits God for watching over them all these years.

With him at each coaching stop has been his bride of 60 years.

"If it wasn't for her, I wouldn't be here. On Sunday morning she says, 'Out of the bed we're going to church' and off we go," Nidiffer said.

The Nidiffers now reside in Elizabethton, where they made their home after Mrs. Nidiffer retired after 36 years of teaching.