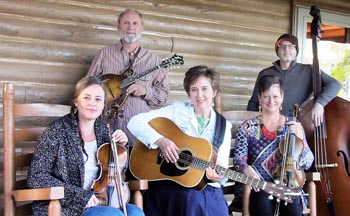 The Knoxville-based Appalachian Americana string band Wild Blue Yonder will be performing in downtown Clinton from 6 - 9 p.m. Friday, May 5, at Hoskins/Lane Park on Market Street for the 13th annual Clinch River Spring Antique Fair's "kick-off party."



The event is free to the public.

This will be the group's first appearance in Clinton, but not their first performance in Anderson County.

The group has performed on several occasions in Anderson County throughout the years.

So much that they are familiar faces to many, particularly across several East Tennessee communities, with past performances at the Museum of Appalachia's Tennessee Fall Homecoming, sold-out performances at the Great Smoky Mountains Heritage Center in Townsend, and other local venues in Knoxville, Maryville, and Bristol.

Four musicians make up the group's core: co-founder Melissa Wade (vocals, rhythm guitar), co-founder Philip Coward (vocals, mandolin, lead guitar), and sisters Cindy Wallace (fiddle) and Laura Knight (fiddle, percussion).

The band was formed in 2001 when friends Melissa Wade and Philip Coward, two veteran musicians with decades of touring and recording experience in a rock 'n' roll band, grew bored with playing the same rock 'n' roll tunes and decided to change things up a bit by trying a different style of music.

"We got burned out with the style," said Wade.

It was during this time - the late 1980s and early 1990s - that Alison Krauss was starting to attract a large fan base on the bluegrass scene.

Wade heard Krauss's music and fell in love with it.

"I fell in love with the music of Alison Krauss. She is a main influence on our style," said Wade.

The haunting, soulful tunes of old-time Appalachia beckoned to them and they began dabbling in bluegrass and folk, the songs Wade said she and Coward grew up listening to as children.

"We wanted to get back to playing the acoustic music we knew and loved," she said.

Wild Blue Yonder originally started playing folk and contemporary bluegrass similar to the style of Alison Krauss.

Other notable influences on the group are Emmylou Harris, Doc Watson, Nanci Griffith, Kris Kristofferson, and John Prine.

Asked why they chose to call their band "Wild Blue Yonder," Wade explained the name of their band has "no particular meaning," but acknowledged it did take some thought and some time to arrive at the name.

"We went through some [Southern/Appalachian] expressions we liked. 'Yonder' is an expression we liked. I remember hearing 'yonder' used as a lot as an expression when I was a kid. We also wanted to use the word 'blue' to sound bluegrass since bluegrass was our direction at that time," said Wade.

Early in the band's formation, the co-founders took to visiting bluegrass festivals so they could network with other musicians and get a better sense of what type of style they were looking to establish.

Their networking efforts paid off when they met and got acquainted through a fellow musician friend, fiddling sisters Laura Knight and Cindy Wallace, two musicians who shared a similar vision and style. The sisters signed on and the four formed the group's core.

Like Wade and Coward, Knight and Wallace also have acoustic roots.

Since the band's inception they have gained a wide following by playing at festivals throughout the Southeast, mainly western North Carolina and East Tennessee. Typical band venues are outdoor events, street fairs, and concert settings.

Wade said she always finds something to enjoy at each venue.

They have had several top-selling songs, including their early novelty hit, "The Possum Crawls Tonight," a twist on the popular 1960s R&B song "The Lion Sleeps Tonight."

Fans know it as "the possum song."

Other songs include: "It's Only Love," "Misery's Road," and "Government Form," to name a few.

Some of their most requested songs by fans are fiddle tunes.

"But we try to include songs from all our albums at every show," said Wade.

Wild Blue Yonder has released three CDs to date: "Bolt Out of the Blue" (2002), "Above and Beyond" (2004), and "Full Disguise" (2010). All songs on "Full Disguise" were written entirely by the group's creative songwriting duo Wade and Coward. It is notable for being the first album to feature all original material.

Incorporating more original songs in their work has been the group's shift in focus as of late.

"We've changed the focus of our music. We've evolved, and we're constantly changing things," Wade said.

The shift in style means gravitating away from bluegrass and more toward Appalachian Americana, she said.

As part of their new direction they have incorporated new instruments in their performances: old time banjo and percussion.

"It's definitely given us a new direction in our music," said Wade, commenting on their revamped sound.

Wild Blue Yonder's goal this year is to perform in new places and visit more downtown hubs like Clinton, she said.

How they learned of this particular venue in Clinton is another story of interest, added Wade.

Last summer, Wade and Coward were traveling in the area as part of another gig when they decided to take a diversion from their route and do some antique shopping in downtown Clinton. It was during their "shopping spree" they heard about the upcoming Spring Antiques Fair from locals, and decided to give Clinton a taste of their music.

"We're so excited to be coming to perform in Clinton for the first time," said Wade.

Anyone wanting to know more about Wild Blue Yonder and their music can visit the following websites for additional information: www.Youtube.com/wbyband; www.facebook.com/wild.yonder.9; and www.cdbaby.com/CD/wildblue2.