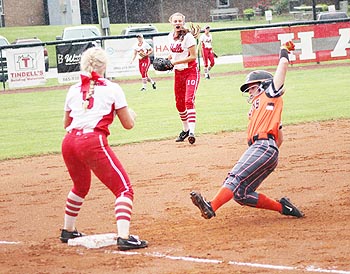 Clinton fell to the number two seed Halls Lady Red Devils by a score of 4-2 on Thursday evening.

With a steady rain falling through pretty much the entire game, the Lady Dragons gave Halls all they wanted and more.

The Lady Devils got out to a 2-0 lead in the second inning after a double, a single, a sacrifice fly, and an error.

Clinton's Annabelle Jackson picked up a two-out hit in the third and moved to third base on a double by Lexie Cochran but that is where the threat ended.



Halls tacked on two more in the third to go up 4-0 after piecing together three singles and a couple of stolen bases. Lady Dragons' starter Kara Bradley left with an injury after being hit on the pitching hand by a vicious line drive. Skylar Newby entered the game in relief.

In the top of the fourth, Karleigh York reached after being hit by a pitch. With two outs and one on, Halie Martin launched a missile through the rain and well over the fence in left center for a two-run homer, giving Clinton a lift and cut the Halls lead in half.

While Newby and the Lady Dragons' defense shut down the Lady Red Devils the rest of the way, Halls only allowed one Clinton base runner in the final three innings and that was Newby, who reached on a walk in the sixth.

Martin finished 1-3 with a homerun and two RBI.

Cochran was 1-3 with a double and Jackson was 1-3.

Bradley suffered the loss as she went two innings and allowed one earned run on five hits.

"That was one of the best games I've seen our girls play all year. We went seven innings with Halls and I never expected that. It showed them when we minimize our errors and hit, we can play with any team," said Lecia Watson, head coach of the Lady Dragons.

The loss sent the Lady Dragons into the loser's bracket where they faced Knox Central on Monday evening.

Clinton took a three run lead into the seventh but the Lady Bobcats took advantage of three Lady Dragons' errors and rallied for four runs and the win.

Clinton opened with a 5-0 lead when Lexie Cochran led-off with a base hit. She stole second and scored on a one-out hit by Sophie Seivers.

Nikki Jones then reached on an error and both runners scored on double by Martin. Martin scored when Kara Bradley reach on an error. Jackson then reached on an error, allowing Bradley to score.

Central added a run in the first to cut the Lady Dragons' lead to 5-1. They added two in the second and one in the third to make it a 5-4 game.

Clinton pushed their lead to 7-4 in the fifth when led-off with a base hit and stole second. She moved to third on a passed ball. York then singled to score Jones and advance Martin, who scored when Lacy Smith reached on an error.

Central scored a run in the bottom of the inning to make it a 7-5 Clinton lead.

The Lady Dragons tacked on a run in the sixth when Cochran reached on an error and stole second. She moved to third on a base hit by Newby. Seivers then singled to score Cochran.

Clinton added a run in the top of the seventh when York led-off with a single and stole second. Smith bunted her to third and Jackson brought her home with a base hit.

The first two hitters for the Lady Bobcats in the seventh reached on an error and the next hitter crushed a double to cut the Clinton lead to 9-8. The tying run scored when the Lady Dragons' third error was committed. The game winner scored following the fourth Lady Dragons' miscue of the inning.

"That's a hard way to lose. I thought we had that one," said Watson. "I'm very proud of this team and what we've accomplished this year. We've got something to build on."

She also wanted to acknowledge her two seniors.

"Cam [Leinart] was injured early in the season and wasn't with us tonight. Lexie [Cochran] played second for us tonight and played in the outfield this season. She did everything we asked her to do. She's leaving some tough shoes to fill. She's definitely a class act," Watson said.

Newby was saddled with the loss in relief as she pitched three and a third innings and allowed one earned run on three hits.

Seivers, York, and Jackson each had two hits for Clinton.