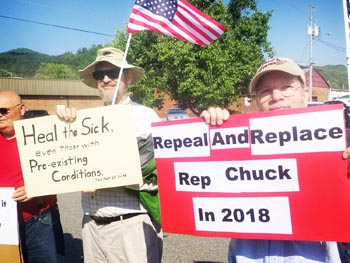 The sidewalks of 2nd Street across from the Rocky Top post office were lined Tuesday morning with protestors as Anderson County and Rocky Top officials and citizens awaited the appearance of U.S. Congressman Chuck Fleischmann (R-3rd District) for a ribbon cutting ceremony marking the post office's name change from Lake City to Rocky Top.

About 15 protestors gathered together to protest the passage of the controversial GOP backed health care bill Fleischmann and his fellow House Republicans supported last Thursday with the intent to repeal the Affordable Care Act.

"I hope it doesn't become law. If I was not on Medicare right now I'd be dead. I've got pre-existing conditions. Poor, hard-working Americans are being helped by the Affordable Care Act," Jim Nelson, a protestor from Oak Ridge, said.

"I was a child of the 1960s who grew up during the Civil Rights Movement and was shielded from all that was going on. This is my first time fighting for Civil Rights," said Ann Walsh, a self-described resistance fighter and grassroots activist from Oak Ridge.

The group of demonstrators said they were not officially representing any organization, and that they hoped the GOP's version of the Affordable Care Act would not pass the Senate because it would trim back the progress that was made with health care reform during President Barack Obama's administration.

"The GOP is bringing back pre-existing conditions with state waivers. Yes, one thing everybody hated about the abusive insurance companies before Obamacare put some regulations in place. Once again insurance companies can charge people more! And being a woman can be considered a pre-existing condition. GOP guts Medicaid by $800 billion. These are cuts that will fall most heavily on working families, children, people with disabilities, and senior citizens who use Medicaid to pay for nursing home care. It cuts money to to CHIP and endangers our children," said Joan Nelson, another protestor.

The ribbon cutting ceremony was supposed to have started at 9 a.m., but Fleischmann and his staff were delayed. As of 10:15 a.m., Fleischmann had still not arrived.

In a press release issued on May 4, Fleischmann explained the reasons for his vote.

"For far too long Obamacare has hurt American families by not keeping its promises of lowering costs, while increasing patient choice. That is why I voted in favor of the American Healthcare Act. This bill will reduce premiums, stabilize the market, and ensure patient choice. While there is more work ahead to rebuild our broken healthcare system, passing this legislation was a critical first step. I look forward to collaborating with my Senate colleagues to give the American people the healthcare they deserve," he stated.