Students report back to school this week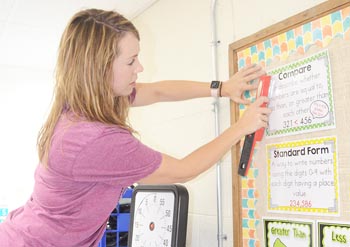 The first day of school begins on Friday, Aug. 4, for students in the Anderson County School District.

The district is expecting more students for the 2017-2018 school year than previous years.

According to Anderson County Schools Student Services Director Paula Sellers, the district is currently seeing the largest gain in enrollment in the elementary schools, but are getting favorable reports at the middle and high school levels as well.



"In the elementary schools, we're packed, and we've still got parents trying to get their children into our district. We're still getting applications days before school begins," Sellers reported.

The largest of gains so far is Lake City Elementary where there have been at least 25 additional students registered to attend compared to this time last year, and with registration scheduled for Wednesday, Aug. 2, school officials expect to pick up even more students by the day's end on Wednesday, Sellers said.

As of Tuesday, Aug. 1, a rough estimate of the total school system-wide student enrollment is approximately 6,518, Sellers said, but that number will likely change as more students register, some transfer, and still others move, which is a common occurrence this time of year.

In the high schools, approximately 2,292 students are currently enrolled at Clinton High, Anderson County High, and Clinch River Community Schools, said Eric Snider, Chief Academic Officer of Secondary Education, in a brief interview on Tuesday morning.

Again, that enrollment figure will likely change once the school year progresses and students get settled, but school administrators are optimistic they will see an increase in students this year the way early estimates are looking.

Enrollment figures are only part of the changes taking place this school year. Administrators have also put into effect some curriculum changes, particularly at the middle and the high school levels. At the high school level, Snider said newly revised English and math standards from the state will go into effect this year.

He said these are "Tennessee revised standards" that educators started professional development on last year, and this year will be the year they go into effect. Another significant change, this one to high school and middle school, is in the school system's guaranteed curriculum, Snider said.

The district will continue using guaranteed curriculum — the district's own creation — but will add math to the guaranteed curriculum in the middle and the high schools. Currently, the district has a guaranteed curriculum in English in grades Kindergarten through 12, and is an entirely "teacher-led, teacher developed" program unique to Anderson County Schools, said Snider.

The aim of a guaranteed curriculum is to provide every student in each grade at each school with the same level of rigor and the same standard of curriculum in the classroom.

The school district has also already received their test score reports from the 2016-2017 school year end-of-course examinations for students in grades 9-12, but those scores are currently embargoed.

Test score reports for high school students came in yesterday, Snider reported.

"We've been training every day, so there hasn't really been a chance yet to dissect yet where we're at with that," he said, commenting on the score reports that were recently received by the school from the state.

Snider said educators are in the process of reviewing the scores now.

Students and teachers expect to have a learning curve with these tests as they are revised state standards.

"Any time we get a new assessment it's going to be a learning curve for educators and students. Once we get a chance to see and analyze the results, we will be able to use the information data to guide future instruction," commented Snider.