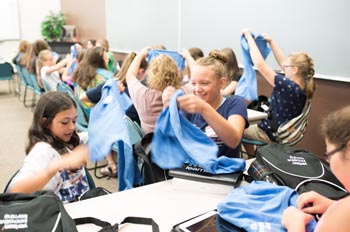 Fifty middle school girls from four counties — including Anderson — took a three-week STEM camp at Roane State's Cumberland County campus to learn about their possible futures in STEM careers.

It's a pilot program of Verizon Innovative Learning, an initiative of the Verizon Foundation, and it's an effort to acquaint girls with Science, Technology, Engineering and Math.

Five community colleges in rural areas across the nation were involved in the effort, and Roane State was the only community college in Tennessee that received an invitation to participate.

Women are woefully underrepresented in STEM careers, officials with Verizon said. Men have 86 percent of all engineering jobs, and 74 percent of computer professionals are males.

The campers in the free program learned the basics of 3D printing, coding, augmented reality and creating a business. They also went on field trips to Tennessee Tech in Cookeville and the Department of Energy's Manufacturing Demonstration Facility in Knoxville.

One camper at first thought the only scientific career available to her was in NASA, said Holly Hanson, director of Roane State's Cumberland County campus. "She now knows there are thousands of opportunities," Hanson said.

The campers gave enthusiastic reviews. "I didn't want the weekend to com," camper Lillian Hajny said. "I cried when I couldn't come to camp."

Another participant, Kalaisha Ralphs, called the camp "really fun and awesome," while Kaylee Vardy said it has reinforced her plans to become a video game designer.

"I've actually learned a lot, and it's really fun," Serenity Driscoll said. "Some things I've never done before, like coding," she said. "This is helping me choose a career in STEM."

Hanson oversaw the all-day camp, while highly trained educators created thought-provoking classes to keep campers enthralled and enthusiastic.

The girls created business names and logos, many of them linked to the United Nations' Sustainable Development Goals. They researched careers in 3D printing and designed the "telecommunications device of the future."

They also brainstormed other inventions, from high-tech water filtration systems to seats for the disabled that extend out of vehicles.

Participants will continue updating their camp goals during monthly meetings over the next year.

They also get to keep their Verizon-issued iPads, complete with Internet access through that telecommunications company.

This year, Verizon launched #weneedmore, an effort to bring more attention to the critical need for more kids to see the world of possibilities waiting for them in STEM fields. Learn more at www.weneedmore.com.