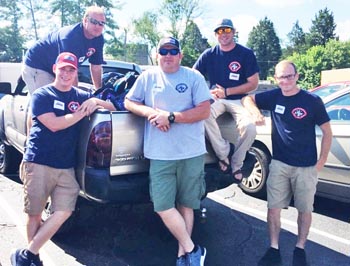 Becky Hook's back-to-school shopping list includes 3,500 backpacks, 5,100 dry erase markers and 700 clipboards, among thousands of other items. That's because she is shopping for ADFAC, which is giving away the backpacks filled with supplies to children whose families can't afford them.



"A lot of kids don't get the opportunity to go to the store and shop for school supplies because their parents have to choose between food, gas or rent and school supplies," said Jenna Sharp, principal of Clinton Elementary School

"We take the supplies that ADFAC gives us and we let them shop. They still get the experience of choosing a backpack, but they do it here," Sharp added. ADFAC (Aid to Distressed Families of Appalachian Counties) provided 87 backpacks filled with supplies for about 15 to 20 percent of the students in kindergarten through sixth grade. "It is almost like Christmas for the kids. We are beyond thankful for that," she said.

ADFAC is distributing the 3,500 new backpacks with supplies to children in need at 33 schools in Clinton, Oak Ridge, Anderson County and Morgan County.

The best chance for children to rise above the cycle of poverty is education, the staff at ADFAC believes, and the backpacks help give them the tools they need to succeed at school. The School Supply Program has grown from hundreds of backpacks to thousands in the 29 years since ADFAC started the program.

"Education is the key to the possibility of better lives and becoming self-sufficient," said Liz Herbes, ADFAC Social Services Program Director. "A lot of adults I see talk about the shame they felt starting school and not having what they needed. Part of the reason why some of our most adamant volunteers are involved is because that is what they felt as a child."

Donations from the community for backpacks and school supplies and more than 200 volunteers make the backpack program possible. A $50 donation provides a backpack and school supplies for one student, and donations of any amount and of new school supplies are welcomed by ADFAC. Contributions may be made by PayPal on the www.adfac.org website, or by mail to ADFAC, P.O. Box 5953, Oak Ridge, TN 37830-5953, with "for school supplies" written on the check.

"I wish you could see the joy that students have when they come to pick out their backpack and the relief that their grown-ups feel to know that their children have the supplies they need to start the school year," said Jo Bruce, Director of Oak Ridge Schools Family Resource Center. "This program is invaluable to the children and families that it serves. It gives the students confidence and the parents respect. Both of those values are important to ensure a child gets a great start to the school year."

Many of ADFAC's volunteers come from 22 community organizations, including the Clinton Fire Department and the Norris Lion's Club. They help during 19 summer days of packing backpacks in assembly line fashion, with two or three schools completed each day.

"What we have learned is that usually once somebody volunteers, they want to come back. We really appreciate that," said Becky Hook, ADFAC School Supply Coordinator. Theresa McKenrick, ADFAC Volunteer Coordinator, lines up individuals and organizations volunteering for backpack stuffing. "There is a certain satisfaction knowing you are doing something for kids, and immediate joy when they take them to schools and see the kids get excited," Hook said.

Hook bargain shops for backpacks year-round and for school supplies once ADFAC gets a list from teachers in early June. ADFAC works with each school to make sure students in need receive the backpacks.

School counselors who work with ADFAC see the relief that financially challenged parents experience. Last year, Patricia Pace, school counselor at Sunbright School in Morgan County, said several parents cried because they were so relieved that their children would have the school supplies they needed.

"The backpack program is a blessing," Pace said. Sunbright School students in kindergarten through grade 12 receive backpacks. "Instead of feeling ashamed or saddened by not having the same supplies as their peers, these children are enthusiastic and optimistic about their new academic year."

ADFAC, a non-profit agency at 1051 Oak Ridge Turnpike, Oak Ridge, serves primarily low-income residents in Anderson and surrounding counties.

Its goal is to help families become stable and self-sufficient through direct assistance services provided by its Social Services, School Supply and Affordable Housing Programs.

For more information, call (865)483-6028 or see the website, www.adfac.org.