Football Preview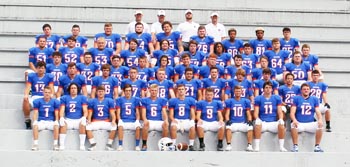 The Campbell County Cougars enter the newly formed Region 3-5A with six returning starters on offense.

They are led by senior quarterback Zach Rutherford.

"He had a phenomenal year last and set some school records and was a big reason we went 8-2 in the regular season," said head coach Justin Price.

The receiving corps is talented.

"They are very special and we have lot of confidence in those guys," he said.

Logan Berry, Justin Nelson, David Whaley, Drew Jordan, Bailey Miller, and Preston Bowman are among the top targets for Rutherford.

"They are all dynamic and each have something they are really good at," Price said.

The offensive line returns three starters with junior center Brandon Dison, senior right tackle Gary Seibers, and junior Jordan Tolliver. Junior Zack Phillips and senior Seth Smith figure to round out the offensive line.

Defensively, Campbell County returns only one starter but an excellent one in senior outside linebacker Elijah Phillips, who will also see time at receiver.

"Even though we're replacing some guys we've got two great guys to be leading them on both sides of the ball," Price said.

The defensive line will feature Seibers, junior Eric Hopper, and sophomore Javan McCulley.

He said the Cougars lost a great deal to graduation and do not return much in the way of game experience.

"We lost a very good senior class last year that set a school record for most wins for a class. In their four years here we were able to win a lot of football games with those guys. At the same time, the guys we're playing [this year] got to practice against those guys each day. They've bided their time and kind of got that chip on their shoulders," Price said.

"They've worked hard and even though they don't have a lot of experience, we have a lot of juniors and seniors replacing those guys and anytime you're a junior and senior-heavy football team you've got a chance," he said.

Price said he is looking forward to playing in the new region.

"Anytime they reshuffle everything it's exciting. It brings new challenges to your program. As a coach, it's neat seeing a team you've not played before. We lose Farragut from the region and pick up Fulton and Knox West so obviously it doesn't get any easier but our kids have been playing some really good football the last four years. Our kids are up for those challenges," he said.

Price also wanted to acknowledge the efforts of the coaching staff — Cody Seiber (defensive backs), Daniel Berry (running backs), Brent Hughes (offensive line), Paul Longmire (wide receivers), and defensive coordinator and asst. head coach Matt Price.