Football Preview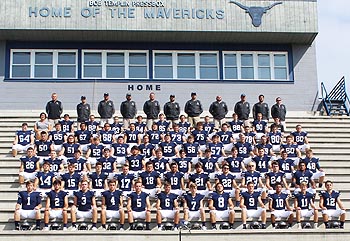 It's a brave new world for the Anderson County Mavericks in 2017 as they move to Region 2-4A.

They leave behind the old 5A region, which featured powerhouses like Fulton and Knoxville Catholic.

The new challenge for the Mavericks will be the best 4A schools in the Chattanooga area and a brutal travel schedule.

"We played some great competition for two years [as part of the old region]. We think that experience will serve us well in the next couple of years," said head coach Davey Gillum.

The offense returns eight starters, including junior quarterback Stanton Martin, who missed the later parts of his first two seasons due to injury.

One of the keys to a successful 2017 campaign is keeping Martin healthy. The junior is one of the most talented signal callers in East Tennessee.

"Offensively, what we do is unique to his skill set and we've got other talented kids to build on his ability. When you look at our [offensive] production the last two years when he's healthy — and when he's not — obviously we rise and fall on how healthy he is," Gillum said.

"If we keep him healthy — and last year's injury was more freakish than footballish — he does play a unique style of running and reckless. That's one of the things that makes him so special. We hope to keep him healthy and if we do, we feel like it will be a special year for our offense," he added.

Gillum said the players around Martin are as good as he's ever had — Ryan Moog, Dalton Wilson, Michael Carroll, Chris Powell, Mason Phillips, and Marquise Gallahar.

"All of those guys are way above average football players. I can name three or four more that are good. We're going a solid two-deep at each skill slot. We like them all — all 10 of them," he said.

The key for the team, Gillum said, is how well the offensive and defensive line, play this season.

"We're very hopeful. We're better than we've been. If the offensive line produces, I think we will be a legitimate contender this year. You've got to go through Greeneville and some pretty big time teams and if you don't match-up up front, it's hard to go very far," he said.

Senior Thomas Roberts and junior Trey Noe will be key in the trenches on both sides of the ball.

The coach said senior lineman Anthony Barbera has come a long way.

"If Trey and Thomas have the kind of year they are capable of, that defense can be special. We've got to get back to owning the line of scrimmage," Gillum said.

"Moog, Gallahar, and Phillips at linebacker are all special. Drew Hatmaker had a really good off-season. He's going to play well for us. Carroll and Powell will each play safety and Dalton Wilson might be the best corner in East Tennessee," he said.

Junior Steve Wagner looks to handle kicking duties and has been solid all summer.

Martin will pull double duty, as he will be the punter for the Mavericks, giving them a threat to run or pass every time they line up to punt.

"If I was a defense I would be terrified to bring pressure against him," Gillum said.

He made several additions to the coaching staff in the off-season. Sean Jessie came over from Clinton and will help with the offense, Jonathan Cotton, who help with outside linebacker was at Clinton Middle School last season, and Zach James came from the staff at Fulton and works with the safeties.

"The off-season has been good for us. For the first time in long time we haven't had to go and start from the ground up teaching and re-teaching things. They know what they're doing. There is still some teaching going on with the offensive line but our skill players have been playing two years and a couple of the lineman have as well. We're a lot closer to a veteran club than we've been since 2013 and that's a good feeling," he said.