Football Preview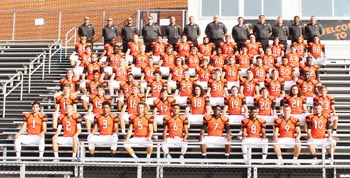 The Powell Panthers are looking to bounce back after a rough 2016 season.

The Panthers went 1-9 a year ago but third year head coach Rodney Ellison is optimistic about his team's chances in 2017. Powell not only enters the newly formed Region 3-5A, they also boast 11 seniors.

Sophomore Walker Trusley will get the starting nod at quarterback.



"He doesn't have a lot of varsity experience but he will be our starter. We had a good quarterback battle all offseason so he should do a good job for us," Ellison said.

The offensive line returns five experienced linemen — senior center Brandon England, sophomore guard Colton Webb, senior guard Marquice Edkis, junior guard Chase Morgan, and sophomore tackle Michael Treadwell, who started all 10 games as a freshman.

Two of the best athletes on the team are junior Riley Bryant and sophomore Bailor Walker. Bryant will start as a slot receiver as well as safety on defense. Walker will rotate at slot receiver and running back. He will start at cornerback on defense.

"Those two kids have done a great job. I expect them to be very explosive and making plays for us this year," Ellison said.

The Panthers will employ a 3-4 defense this season. Coach Eric Myers will serve as defensive coordinator, a position he held when he was on the staff at Clinton with Ellison. Coach Micaiah Smoker, former defensive coordinator at Fulton, was hired to coach defensive backs this summer.

"Defensively, we're looking great. In seven on sevens we made a lot of plays and batted a lot of balls down. I think our defensive scheme is right where we need it to be," Ellison said.

Junior kicker James Hyman is back this season. He joined the team as a sophomore, coming over from soccer.

"He was 14 for 14 on extra point kicks and one for one on field goals last season. He's accurate and does what we need him to do," Ellison said.

Junior Carson Cole, who will play wide receiver and back-up quarterback, will likely be the punter this season.

"Our expectation is to become a much more competitive football team in year three which is what we thought we would be able to do. Our region is much tougher with Oak Ridge, [Knox] West, and Fulton. That's three of the most athletic teams in the state as well as Campbell County, who can sling the ball around. I think those are the top four teams in Region 3, with us, Clinton, and Karns being the three teams trying to break into the top four — and I think we can," Ellison said.