Football Preview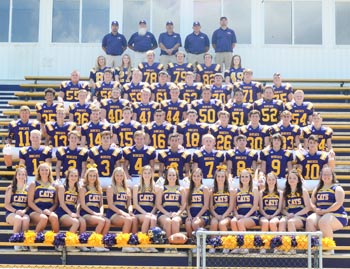 The Oliver Springs Bobcats are coming off of a 5-6 season and played in the Character Bowl a year ago.

The Character Bowl appearance was to raise money for one of their own — guard/linebacker Lane Lee, who had leukemia.

Lee has since beaten the disease and is back on the team for the 2017 season.

"He maintained a 4.0 GPA through the whole ordeal," said head coach Larry Green.

It's that kind of physical and mental toughness that give the Bobcats a reason to be excited this season.

Green said the goal of the team is to have a winning season and reach the play-offs.

Oliver Springs compete in Region 2-1A this season.

"We moved down to 1A from 2A. That doesn't make it any easier. We're in the region with Greenback and Coalfield, who have played in the last three 1A state championship games. We've also got Harriman and Midway, two other regular playoff teams, in the region, along with Sunbright and Oakdale," Green said. "In my mind, we're in just as tough a region as we were last year."

Sophomore quarterback Blake Crass, who saw limited action last year, will lead the offense.

"We think he's going to be a good one. He's developing and getting better every day. He's getting a grasp of the offense and he's got good leadership qualities for a sophomore. He's thrown the ball really well in seven on seven," Green said.

The backfield will feature seniors Dillon Walls, Landen Everett, and Michael Crawford. Senior tight end Jordan Haney returns as does senior offensive linemen B.J. Forsythe, Brent Broaddus. Juniors Levi Laymance, Brady Webb, Scotty Brown, and Daniel Giles return up front for the Bobcats as well. Junior Lucas Daugherty is versatile and can play any position on the offensive line is also back.

"Some of those guys started as freshmen, so we're experienced on the line," Green said.

The receiving corps includes seniors Sean Ross, Garrett Wilson as well as juniors Blake Nation and Mason Hill — who led the team in receptions a year ago and averaged a little less than 28 yards per catch.

"We're excited. We think we've got some weapons," Green said.

Defensively, Oliver Springs runs a multiple 3-4.

Middle linebacker and leading tackler Scotty Brown will anchor the defense. Everett and Walls will play outside linebacker. Hill will play defensive back. He led the team with seven interceptions a year ago.

He will also return punts and kicks.

Laymance, Broaddus, Webb, Forsythe, Haney, and senior Luke Whitmire will rotate along the defensive line.

Crawford and junior Matt McGee will see time at outside linebacker.

Ross, Wilson, freshman Gavin Hill, as well as sophomores Trey Boswell, Matt Armstrong, and Landon White will round out the secondary.

"I think we'll be very sound defensively," Green said.

There have been a couple of additions to the coaching staff. Terry Hill recently moved up from the middle school and coaches the outside linebackers and wide receivers and Garrett Miller will help coach quarterbacks.

There has been a change in the schedule.

The home game with Coalfield originally scheduled for Thursday, Oct. 19 has been moved to Friday Oct. 20. The game was to have been a "My-VLT Rivalry Thursday" game but Green said he was informed recently that it will not be televised after all. When he asked why he was told the satellite truck cannot send out a strong enough television signal from Oliver Springs.