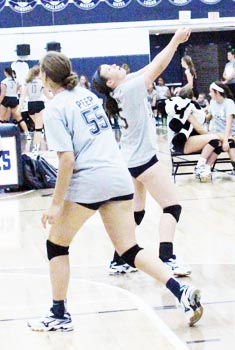 The Anderson County Lady Mavericks volleyball team opened the 2017 season with a pair of wins on Tuesday as they traveled to Alcoa where they beat the host Lady Tornadoes in two sets.

The scores were 25-18 and 25-22.

Senior Annalyse Leach had eight points, one ace, and 10 digs.

Junior Taylor Irwin had 11 points, three aces, and two digs.

In the second match, Anderson County bested William Blount by in two sets by scores of 25-22 and 25-22.

Senior Madison Gossett had 19 points, seven aces, two kills, and 12 digs.



Freshman Hannah Freeman had five points, one ace, 15 assists, and three digs.

On Thursday, the Lady Mavs fell at home to Bearden.

Morgan McMurray had two kills, three blocks, and three digs for Anderson County.

Senior Hannah Headrick had four kills and two blocks in the loss.

The Lady Mavs rebounded with a win over visiting Sevier County, winning two sets by scores of 25-14 and 26-7.

Senior Maddy Taylor had four points, 15 assists, five kills, one block, and two digs.

Junior Kaylee Castleberry had seven points, one ace, and eight digs.

Anderson County returns to action on Friday and Saturday when they play in the JV and varsity early bird tournament at Oak Ridge.

Times are to be announced.