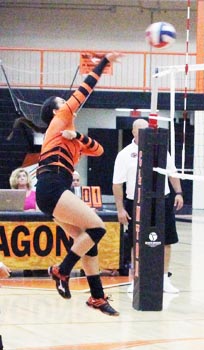 The Clinton Dragons volleyball team opened the regular season at home on Tuesday with a tough loss to Bearden.

The Lady Bulldogs won in four sets by scores of 25-17, 28-26, and 25-13.

The Dragons won one set 25-21.

Stats were not available at press time.

"When we played Bearden we jumped right in there during the first game. We were passing well and controlling the flow of that game and then in the second game their hitters took over and we couldn't block very well. The third game we put it back together and played with them, got a lot of blocks and played well but made a couple of mistakes at the end of the game," said Susan Zellner, head coach of the Dragons.



They fell at Halls on Tuesday in three sets by scores of 25-17 and 15-12.

They won one set 25-20.

Abbie Stinnett had five points, five kills, and two blocks for the Dragons while teammate Annabelle Jackson had five points and six digs.

Clinton's Kindrix Bean had four points and one dig.

"The players really hustled and didn't give up, and Makenzie [McNeal] made a great save in one game moving over toward the scorers table and getting it over the net somehow. It was a great play. We just made mistakes and we can correct those mistakes in practice," she said.

"We love playing Halls no matter where. It's always a good game of volleyball and Coach Carroll and I are good friends. We played very well at times, great hits from Abbie Stinnett, Priscilla Powers, Makenzie McNeal. It's just the beginning of the season and I think as we continue to play we will continue to improve. We are still young, with only seniors and the younger ones are getting better every match," Zellner said.