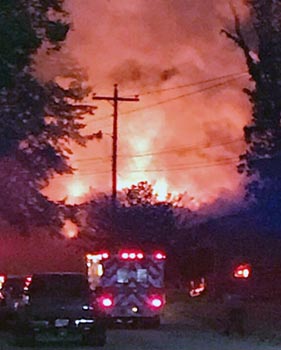 Firefighters with the Claxton Volunteer Fire Department, Oak Ridge, Karns, and Andersonville fire departments responded at 8:06 p.m. Wednesday, Aug. 23, to a house fire at Sherwood Estates Circle in the Claxton area of Anderson County.





At the time of the fire, there were five adults inside the house.

All five residents escaped unharmed but their dog perished, reported Craig Shaver, Claxton Fire Chief, in a recent phone interview.

"All of the family was able to get out of the house without injuries. All were adults. There were no children involved," Shaver said. While firefighters worked to put out the fire, one firefighter was transported to the hospital for heat exhaustion.

Crews extinguished the flames in about 30 minutes, and remained on scene until around 12:45 a.m. to prevent a rekindle, Shaver said.

The home, which sustained heavy smoke and fire damage, was reported to be a "total loss."

Although the cause of the fire is still unknown, it is believed to have originated in the kitchen area of the house, Shaver stated.

According to Shaver, an investigation into what started the house fire is under way.

"Investigation into what started the fire has not been done yet, but will be done soon. There will be an investigation to pinpoint the cause," he said.