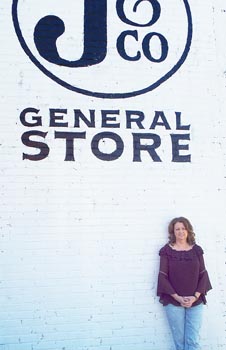 Just in time for the Antique Festival, The Johnson & Company General Store has opened on 139 North Main Street (the space that formerly housed the Hunt law firm), and the site is already gathering attention from locals.

The store opened for business on Monday, Oct. 9. The owner, Charlotte Johnson, and her daughter Bekah Elliott, say the store's opening this week is preparation for the Antique Festival that begins this weekend on Oct. 13-14, in downtown Clinton on Main and Market Streets where people from all over the state and country will come to Clinton to look for bargain antiques.

The store is set up like an old general store, but with a modern spin, with a variety of old-fashioned candy displayed on a vintage looking set of shelves.

On its website—www.johnsongeneralstore.com—it is advertised as "an upscale general store" similar to the Mast General Store in Knoxville.

Co-owner Charlotte Johnson is from Clinton, and has 30 years of retail experience working with her husband in the auto parts business. The Johnson's live in Powell and own and operate Lambert's Auto Parts and Lambert's Pick-A-Part.

"I was looking for three years for a place to set up a shop, and one day, was driving through Clinton, saw the for sale sign on this building, and thought, 'what a great location for a business!' so I called the owner and one thing led to another, and well, here we are today," explained Johnson.

She said it had been her dream for some time to set up a shop, but what kind of shop she did not know.

"Once I started I really didn't know which way I was going to go with this, and then with my daughter's help, we decided a general store would be a good idea, and it just sort of progressed from there," she said.

"I went to school here in Clinton and was raised here. This is my hometown and I know everybody, so hopefully the store will have a hometown feel to it," said Johnson.

The Johnsons get their supplies mostly from husband and wife business teams like Johnson and her husband, and said all of their merchandise they purchase from their suppliers is made in the U.S.

"I know rst-hand how hard it can be to operate a business as a husband and wife team, so I like supporting these businesses," Johnson said.

Currently, the store's merchandise consists of an assortment of home de- cor products, women's clothes, men's clothes, children's clothes, gifts, and candy.

Future plans are to offer in-house embroidery as well, and possibly, open the second oor of the building to expand the business even more, said Johnson. For now, the store hours of operation will be 10 a.m. - 6 p.m. Monday through Thursday and 10 a.m. - 7 p.m. Friday and Saturday, but hours could change,

depending on how business goes, Johnson said.

The store is unlike any stores in the area. With its blend of vintage and modern, it is sure to attract plenty of business in the coming weeks.