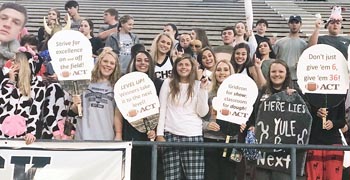 The American College Test (ACT) — a critical thinking test required for college entrance — can be a daunting task for many a college bound high school student, but according to recent reports from the Tennessee Department of Education, Anderson County School System's two high schools — Clinton High School (CHS) and Anderson County High School (ACHS) — are preparing students well for college and careers.

Last week, the Tennessee Education Department announced in a media release that Anderson County School System was the third school district in the state for the highest participation and the highest average composite score growth on the 2016 ACT Senior Retake exams.

Anderson County Schools increased ACT composite scores by .6 a point. The only other school district to achieve the same was Dyersburg City Schools. Coming in second was Johnson City Schools with a .7 increase. Maryville City Schools had the highest growth in the state with a 1-point increase.

"We are testing more students than ever while also having more students. Previous senior's classes typically ranged between 500 and 520 students. As of now, this year's senior class has 548 students," said Eric Snider, Director of Secondary Schools for Anderson County Schools, in an interview last week discussing the school district's test results.

"This school year we have more than 15 seniors in the 30 plus club, and more than 86 seniors are in the 'Elite 100,' which is more than we've ever had in previous years. It is our goal by the end of the school year to have more than 100 students in the Elite 100," Snider said.

The Elite 100 is for students who reach all four of the college-ready benchmarks.

According to reports from the state department of education, more than 3,500 additional students across the state took the ACT this year, and about 1,800 more public school graduates became eligible for the HOPE scholarship by earning ACT composite scores of 21 or higher.

Snider attributes students' improvements on the ACT to the school system's implementation of rigorous classroom study, ACT prep classes, and an overall focus district-wide of the importance of scoring well on the ACT.

"In today's environment, ACT and its importance penetrates nearly every discussion that we have at the high school level. ACT has become one of the most important numbers that post-secondary institutions look at today. I do not see this trend changing anytime soon," Snider observed. "It is one of my goals that the importance of the ACT is discussed in every high school classroom, every day in Anderson County Schools."

New rules apply this year to graduating seniors. Starting this year, all students receiving a diploma must have a valid, official ACT score or they will not graduate.

The school system's participation rate this year is as follows: more than 87 percent of juniors from both high school took the practice ACT on Oct. 3, and more than 90 percent of seniors took the official 2017 ACT retake exam on Oct. 3, according to Snider's report.

"I think it's the collaborative effort of the staff, students, and parents to achieve as college opportunities continue to be plentiful. As our knowledge grows in our community, so does our desire for success," stated Angela Merryman, the school system's GEAR-UP coordinator.

Snider said he would like to thank the following school faculty and administrators for their participation in coordinating the ACT exams and retakes, and in stressing the ACT's overall importance: principals Ben Downs, Dr. Caleb Tipton, and Robbie Herrell, all high school guidance counselors, Kayla Watson, ACHS, and Karen Campbell, CHS, both lead ACT teachers, and Angela Merryman, Anderson County School Gear-Up Coordinator.

On Tuesday, April 3, 2018, all high school juniors will be required to take the ACT.

Students are urged to complete the FAFSA as quickly as possible. Help is available for filling out the FAFSA on Oct. 17 at Clinton High School between the hours of 4 p.m. and 7 p.m. and Oct. 19 at ACCTC between 4 p.m. and 7 p.m.