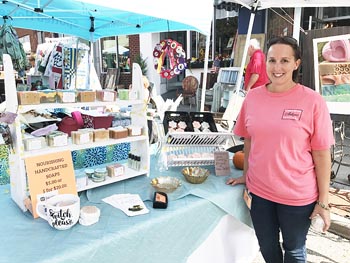 Natural alternatives to beauty and hygiene products have become a growing trend in recent years.

One unique and natural hygiene product, once a commonly made household necessity, is being produced and sold online and locally in Clinton. Sarah Boehlke, owner and operator of Slingin' Soap Shop and bartender at Harrison's Grille and Bar, says she first began her journey to making her own natural alternatives to personal hygiene products after moving to Tennessee as a way to cope with missing her home state of Hawaii.

Originally, Sarah gave away her soaps to her friends and family until she was approached with the idea of possibly becoming a small business and selling her yield for profit.

The ingredients in Sarah's homemade soaps consists of using natural oils; such as, olive oil, palm oil, coconut oil and many others.

"Any type of oil would work. You can even use lard if you have access to it," Boehlke says. In addition to natural oils, Sarah also uses things like activated charcoal or natural clays for exfoliation.

The natural alternative entrepreneur explains, "The soaps that you buy from the store are actually harmful to your skin, removing glycerin that keeps your skin healthy. The soaps that I make are as gentle as it gets on your skin."

Along with the skin-healthy ingredients, Sarah also uses essential oils to fragrance her products, creating wonderfully unique scents and combinations.

Sarah's passion for creating a natural product for all ages and genders has not been limited to just soaps.

The Slingin' Soap Shop also offers other products on both their upcoming website and Sarah's personal contact information, such as roll-on perfumes, bath bombs, and lip balms all made with the same unique and earthy tones as her soaps.

These products can be found annually at the Clinton Antique Festival in the fall, or interested customers may contact Sarah directly.

For more information on how to order these natural, skin healthy products, feel free to email Sarah Boehkle at suds808@yahoo.com.

If you are local and would like Sarah to meet with you to buy some of these great products, you may also contact her via mobile phone at 1(808)381-1847.