Hawk Talk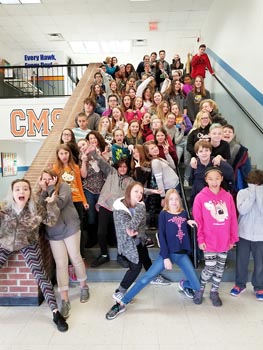 Back again!

With more stories from the halls of YOUR hometown middle school. Your CMS.

And the CMS Newsroom is pleased to bring you the latest edition of CMS Hawk Talk, a weekly column run by a crew of superb student reporters and writers bent on showcasing the great goings-on in our building.

Below, you will find short pieces related to areas of learning and fun in our building from Academics to Related Arts classes to Clubs and Programs and written by CMS students.

Showcasing a wide variety of the positive happenings at CMS is Hawk Talk's first priority.

Here are stories from the past week at CMS:

Christmas Music: The

Return, Part II

Abigail Bible, Kayana Donegan, Angelyna Long, and Abigail Sanders

The CMS Chorus class, organized by Mrs. Elizabeth Myers, has two upcoming winter performances. One is an In School performance on Dec. 8, while the other is an evening performance on Dec. 14 at 6:30 p.m..

The members of the Chorus class have worked tirelessly to perfect their ensemble. A few of their songs include "Have Yourself A Merry Little Christmas", "All I Want For Christmas Is You", "Deck the Halls", "Carol Of The Bells", and "Siyahamba".

Mrs. Meyers has also selected soloists for the In School performance.

An 8th grader, Elizabeth Harris, will be singing "Have Yourself A Merry Little Christmas" along with seventh grader, Elizabeth Blair, for the In School performance.

Other soloists for the In School performance include Amber Shelton and Charlotte Hancock who will be singing Mariah Carey's "All I Want For Christmas Is You."

The Choir will be performing for the public at 6:30 p.m. Dec. 14.

The soloists for this performance will be 8th grader, Kayana Donegan, who will be singing "All I Want For Christmas Is You," and Abigail Sanders as well as Riley Hatmaker who will be singing, "Have Yourself A Merry Little Christmas."

Mrs. Myers, the music teacher who will be directing the performance has said, "CMS Hawk Choir students have worked extremely hard preparing high quality music! I am confident that their hard work will pay off with a wonderful performance.

Everyone is welcome!"

Teacher's Assistant Program Going Strong

Hunter Evans, Catherine Meredith, Zachary Rains, Dylan Reed, and Jeremiah Turbyville

At Clinton Middle School, there is a cool program that allows students with good grades and behavior to get out of related arts classes, and go help teachers.

This is the Teacher's Assistant (TA) program.

The founder of the TA program, teen living teacher Candis Claiborne says, "I felt like it was very important for students to develop real life skills. It helps students to develop job skills, and technical skills."

We interviewed 8th grade student Zachary Rains, who is a TA for the Art program, says, "The thing I like about being a T.A. is how I can take the stress of grading off of teachers, while letting the teachers have fun with students."

In order to be a TA, Mrs. Claiborne said, "TA's need to be responsible, have a good work ethic, and be able to do things in a timely manner."

Visual Arts at CMS

Ashton Arndt, Hazel Hensley, Dannah McBride, Kira Murphy, and Kiara Reeves

At Clinton Middle School, the Art program is the best place for man students to show off their amazing artistic abilities to the school.

The head of the Art program is Mr. Graham Richardson, who has been teaching Art at Clinton Middle School for three years. Mr Richardson's current topic in his Art classes is tie dye.

"We are doing different types of clothes including shirts, socks, shoes, pants, etc," says Richardson.

However, tie dye isn't Mr. Richardson's favorite topic to teach. Mr. Richardson instead, loves to do "different types of ceramics."

Mr. Richardson is truly a favorite to the school, and Hawk Talk. We here at CMS, are proud to have Mr. Richardson and his Art program.

From the sports desk...

Sam Bowling, Anthony Berg, Joshua Patton, and Sam Whitaker

Tuesday night the Clinton Hawks basketball teams squared off against the LaFollette Owls. Both Clinton teams arose victorious when the boys won 50-18 and the girls won 35-23. Thursday night the Clinton Hawks squared off against the HMMS Red devils, and our Boy Varsity team won 44-28 and the girls won a tight one, 29-28.

The Clinton Hawks swim team is currently undefeated in all of their meets. We talked to Abby Bible on how she feels about the middle school Swim Team. She told us that "swimming is really fun and my favorite part is getting to swim in the meets."

Until next week...