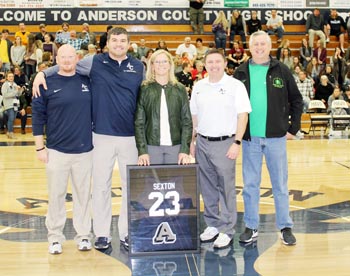 Shelley Sexton Collier was honored at halftime of the boys Clinton-Anderson County game Friday night.

She played basketball at Lake City High School from 1979-1982. She was on the first Anderson County High School team in 1982-1983.

During her prestigious high school career she was the recipient of many awards including: All District, All Region, All East Tennessee, WTVK Tennessee Valley Player of the year, East Tennessee Player of the year, All State two times, and an All-American during her senior season.



During her senior year she averaged 23 points per game and finished her career with 1, 945 points. She holds the Anderson County school record for points in a game with 47. On April 13, 1983 she signed with Coach Pat Head Summitt and the University of Tennessee Lady Vols.

During her time on Rocky Top, Shelley was a member of the Lady Vols Basketball team from 1983-1987. From 1985-1987 she received the Leadership Award. During the 1983-1984 season as well as the 1985-1986 season, her UT team lost to Southern Cal in the final four. In the 1985-1986 season, she was the Mid East Regional MVP at Iowa. In 1986-1987 Shelley was a captain on Tennessee's first National Championship team.

After her playing career, she stayed on as a Graduate Assistant at Tennessee under Summitt from 1987-1989, and in the 1988-1989 season, Tennessee won their second National Championship.

Staying in coaching, Shelley came to Anderson County Schools and was the Clinton High School girls' basketball coach from 1989-1993.

During the 1990-91 season, her Lady Dragons went the school's first ever state tournament in any sport. In 1993 she moved to Karns high school where she was the coach until 1996.

At the end of the 1996 school year, she accepted a job at Webb where she has been the Girls coach at ever since. During her 20 plus years at Webb, her Lady Spartan teams have won five state championships and have played for nine total.

Her Webb teams have been to the state tournament 16 times over her career.

Shelley has been inducted in three Halls of Fame, including the Knoxville Sports Hall of Fame, The Lady Vols Hall of Fame, and the Anderson County Hall of Fame.

On May 24, 1983, Shelley Sexton's number 23 was retired at Anderson County High School. On Friday night, she was presented with a replica of her Anderson County jersey.