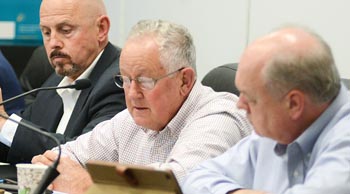 It came early and it took the wind from sails out of what a lot of people were expecting: Discusssion on alleged misconduct by Anderson County Circuit Court Clerk William T. Jones.

Anderson County Commissioner Steve Mead made a motion to table all discussion concerning litigation Anderson County Government is involved in concerning allegations against Jones and county government over allegations of sexual harassment.

Mead asked the Commission to table all talks on the matter, as requested by "outside legal counsel.

The motion was seconded and approved, with one "no" vote.

"I voted 'no' because the citizens of Anderson County want some answers … "Commissioner Jerry White began, but was cut off by Mead.

Mead said the motion to table discussion about the litigation also meant their could be no discussion on the motion to do so.

A visibly unhappy White said, "People want some answers," then went quiet.