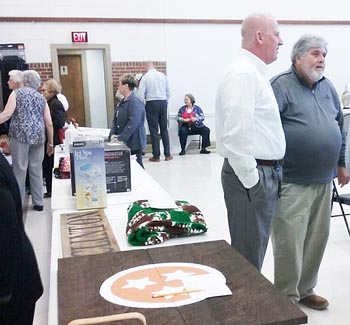 The Timely Topics Club of Clinton collected $1,800 through the sale of items in a silent auction held last month at the Clinton Community Center.

Business contributors to items offered were the following: Hoskins in the Flat, Cajun Cafe and Antiques, Mitchell's Salon (located on Market St.) ; Samuel Franklin Floral Store and Corner Antiques (both located on N. Main St.); Jennifer Dolphin Doll Repair, and The Ferrell Shop Fine Gifts and Accessories--Jackson Square of Oak Ridge.

In addition to items offered by businesses and members, a local artist and photographer in Clinton, Betsy Robinson, featured hand painted note cards, drawings, photographs, and floral pins. Betsy has contributed her photographs to several local newspapers. She sells her note cards and it is through her sales at the silent auction that two scholarship receipients will benefit. The Timely Topics Club also gives to the city library and school libraries as well as contributing to community services and projects.

The club meets monthly on the fourth Tuesday of each month at noon at Clinton Community Center Great Room, except for June, July, August, and December. Visitors and those wishing to join are welcome. Lunch is served at each meeting.