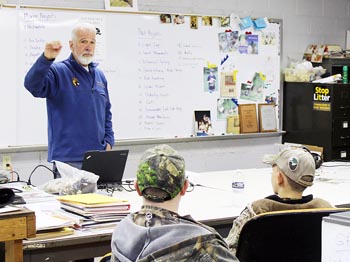 It is a property with an interesting and somewhat troubling history but more importantly, a bright future.

The Anderson County Wildlife Sanctuary sits on approximately 148 acres just off of Blockhouse Valley Road.

In 1895, the Anderson County Court (predecessor of the county commission) purchased the property to serve as the Anderson County Poor Farm, an area where indigent people could live. In exchange for living quarters and food, those living there had to work the farm, raising crops and livestock. They produced their own food and the surplus was sold to help pay for any expenses incurred by the farm.

The Poor Farm was closed in 1962 and for the following 10 years, roughly 42 acres of the property served as the county dump.

In 1972, the area was officially upgraded to government-regulated sanitary landfill before it closed in 1982 under Environmental Protection Agency guidelines.

In 1988, the Anderson County Commission designated the original Poor Farm as the Anderson County Wildlife Sanctuary. The idea was for the sanctuary to be used for education and research.

In 1989, Clinch River Environmental Studies Organization (CRESO), a partnership primarily consisting of Anderson County Schools, Oak Ridge Schools, and the U.S. Department of Energy Environmental Management Division and numerous secondary partners, began monitoring what is now the sanctuary.

What has transpired in the past 29 years is nothing short of amazing.

"This is going to be a model for the rest of the United States of how to fix a major problem," said County Commissioner Phillip Warfield, who also chairs the Anderson County Conservation Board.

"The landfill here was a major problem. Through a lot of teamwork, they have come up with a plan on how to fix this landfill," he said.

Planting hybrid tulip poplars has helped reclaim the area back to nature. Warfield said the last thing required by state officials was a solar-powered water pump to be installed to recirculate water in a pond on the property. He said state officials have tested the soil and everything is well within acceptable standards.

The Melton Hill Longbeards Chapter of the National Wild Turkey Federation is also going to work with the conservation board and CRESO in planting native grasses food plots.

"We want to turn this back into what it was before it was a landfill. We're very close to having it [the property] come out of what is called remediation. When that happens, it will go into the conservation board's hands," Warfield said.

Planned development for the property includes walking trails as well softball and soccer fields near the entrance to the property.

"About a year and a half ago, the county commission voted unanimously to put the Blockhouse Valley landfill under [county attorney] Jay Yeager. Jay has worked diligently in getting things worked out with Tennessee Department of Transportation and getting all of the testing done so we're actually going to end up saving money. Things are looking really good. The plan is not just to develop a nature center but an educational center too," Warfield said.

John Byrd, director of the project since 1989, has installed wetlands on the property and will install even more in the future, Warfield said.

"We try to adapt our projects to the interests of our students, which are mostly high school kids but we also get middle school kids and college students as well," Byrd said.

He said CRESO gets input from many experts on their projects.

"We're built around three cornerstones. Number one is research. Number two is educational outreach. Number three is habitat management. Without good habitat it's hard to do research o anything because it's just not there," Byrd said.

Current projects include a nestwatch project, which consists of bird boxes in area schoolyards, allowing even elementary students to participate.

"That is a citizen science project run out of Cornell University," he explained.

There is also a box turtle project in which dynamics and health of the turtle is studied.

"Everything is built around population studies and what's the health of our animals? We also have a snake study where we're looking at movement patterns, their health, and diet," Byrd said.

They also do wetland monitoring and that consists of studying water quality and macroinvertebrates (crawfish, snails, etc.) as well as amphibians associated with wetlands.

"We're trying to enhance and improve habitat and one of the big projects we've got coming up is that we want to convert some of the grasses that are not really supporting wildlife in the landfill, over to something more functional. We'll be doing that a little tiny piece at a time. The big push is pollinator protection. Every third bite we take, we can thank a pollinator for that so we want to see that [vegetation] a little more functional down here. We have our schoolyards a little more functional as far as landscape goes," he said.

Turning the former landfill into a model of how to restore such property is the ultimate goal, Byrd noted.

"We're all concerned how much students get outside and we would really like to see a little more of it. We think they are missing not just a lot of fun but learning opportunities as well by something as simple as exploring. We just don't see that as much anymore," he said.

"It's gong to take a few years to actually get it developed but once it's done, it will become a model for taking a really, really bad situation and turning it into a good situation while educating the public," Warfield said.