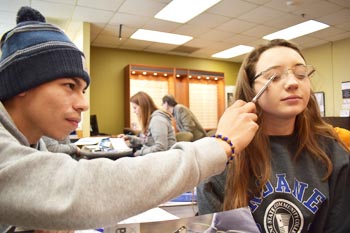 There is much more to ordering and fitting glasses than meets the eye, and Roane State has the only accredited opticianry program in Tennessee.

The clinic's three labs/classrooms are on the second floor of the Roane State Community College's Technology Building on the Roane County campus. It's one of only some 25 opticianry programs nationwide.

As part of the program, students fill new eyeglass prescriptions for classmates, faculty and the community as part of their training – and at lower than retail prices. Students under close supervision by licensed instructors help clients through the myriad of decisions about their glasses while also serving as fashion advisors.

"We make our patients look better as well as see better," says Mike Goggin, who has been director of the nationally accredited program since 1995.

"There's a lot more to being an optician than people think," adds student Isaiah Newport, who travels from Oneida to take the class.

Graduates of the two-year program receive an associate of applied science, which prepares them to take the Tennessee State Opticianry Board licensing exam.

Graduates' futures are financially bright and stable. "There are tons of jobs," Goggin said. "We have people begging for our grads."

And the pay is good. "Many of our graduates make more than I do," the director said. One graduate now owns her own optical boutique that offers high-end fashion eyewear, he said, while others work their way up the corporate ladder and make very impressive salaries.

Licensed opticians at corporate stores often start out at $24 an hour and go up from there, Goggin added.

There are currently 21 first-year opticianry students and 19 others finishing up their final semester. Students' motivations vary as widely as the eyeglass prescriptions they handle as well as the clinic's inventory of frames, most of which are donated by manufacturers and available at no cost.

"I grew up poor," said Gerardo Zavala of Lenoir City. "I want to help those fellow Hispanics who don't speak English well and hopefully change their lives for the better."

"This gets me into the healthcare field without spending a decade in school and racking up a bunch of debt," Knoxville resident Brandon Adkisson said.

The spectrum of choices in selecting glasses is almost limitless and includes such factors as different types of glass or plastic lenses, the variety of coatings that are available and the different frames made from everything from plastic to gold.

Students have to find out about clients' activities and lifestyles in helping them pick the most appropriate combinations of lenses and frames, Goggin said.

Then, there's the aesthetics. "We must help our patients look better as well as see better," he said. "Glasses are face jewelry and very cool fashion accessories."

Those interested in obtaining glasses through the program's clinic should make an appointment and bring a written prescription from their eye doctor that is less than a year old. The clinic is open each fall and spring semester.

This spring, the clinic is available through April 5.

Patients should arrive early for their appointments so the student opticians have enough time to complete their work. Current clinic hours are 9:30 a.m.-12:15 p.m. on Tuesdays and from 9:30 a.m.-12:15 p.m. and 1 p.m.-3:45 p.m. on Thursdays.

The clinic is in Room 209-A in the Technology Building. Call (865) 882-4635 during clinic hours to make an appointment.

For more information about becoming a student in the opticianry program at Roane State, contact Goggin at gogginmt@roanestate.edu, or 865-354-3000, extension 4319 or visit roanestate.edu/opticianry.