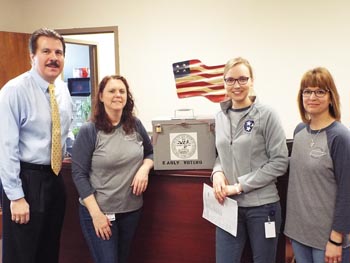 Early voting for the May primary election is here, starting today, April 11.

"Early voting is a very effective tool for voters" stated Mark Stephens, Administrator of the Anderson County Election Commission.

"It offers a two week opportunity for voters to vote when it is convenient for them." said Stephens.

He emphasized the convenience factor.

Early voting has certainly proven to be effective with the turnout for early voting increasing every year in Anderson County.

The three early voting centers for the Anderson County Primary Election are the Clinton Community Center at 101 Hicks St. in Clinton; The Midtown Community Center (Wildcat Den) at 102 Robertsville Rd. in Oak Ridge; The North Anderson County Government Office at 3310 Andersonville Hwy. in Andersonville.

The early voting period is Wednesday, April 11 – Thursday, April 26.

Hours of operation for the voting centers are 10 a.m. – 6 p.m., Monday – Friday and 9 a.m. – 12 p.m. on Saturday.

Stephens also discussed absentee voting.

"Absentee voting is permitted for convenience." stated Stephens. "We want everyone that wants to vote be able to vote."

Anyone over 60 years of age qualifies for absentee voting. Others that qualify are students and voters that are out of town.

In order to be an absentee voter, the absentee voter form must be filled out.

This form and other information can be found at www.acelect.com or at the Anderson County Courthouse.