When it comes to planting, Moore has the answers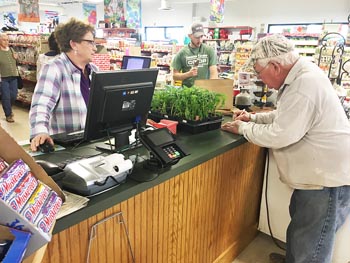 Interested in the newest tomato plants? Ask Annette.

Do you need to know how much fertilizer your garden plot needs? Ask Annette.

That's Annette Moore, who in the last 49 years has gained a wealth of knowledge about gardening and farming.

You can find her at Anderson Farmers Co-op in Clinton where, as Jeremy Horne, manager, said, "She has a following." On a typical morning recently, Robert Foust, who lives near Clinton, came to buy tomato plants. They joked with each other as he was paying for his purchase and said, "She's my go-to gal." Annette began what she called "a journey" when she started working at Hendrickson's Feed Store, on the end of Clinton toward oak Ridge, which was co-owned by her husband, Joe Moore, and Betty Lynn Hendrickson.

She left there in 1992 and joined a farmers co-op in Knoxville. She left in 2002 after her mother died. In 2003, she came to work at Anderson Co-op and remains there.

This is not your father's co-op (apologies to Oldsmobile). It's not in a plain white wrapper stuck on a side street. It's a shiny new building on one of Clinton's two main streets. It contains everything it used to, as well as jewelry, t-shirts, other fine shirts, candles and toys.

And Annette has learned all about that too.

A few years ago, the co-op system expanded to carry the modern "convenients" as well as the traditional goods, and it became Annette's job to learn all about it. She goes to three or four marketing meetings a year. In fact, her expertise won the Inaugural Marketing Diamond, recognizing the outstanding job she has done all this time.

Horne commented, "It's been an honor to have (Annette) here. We don't have anyone more dedicated."

"It's been a learning experience my whole life," Annette said. When the co-ops began to offer their retail line, she had to learn abut that. This past Christmas, she decorated a tree for every window facing Seivers Blvd. The co-op then sold all the trees, some decorated and some not, as well as most of the decorations. We offer free gift-wrapping. Of course, Christmas was our busiest season, sometimes with five people wrapping at one time."

Occasionally, Annette has been asked to lend her wisdom to a local group. She said she is better one on one but can handle a group. "I enjoy the job and pleasing people."

The most common question Annette gets is about grass seed or fertilizer - this time of year, especially. Usually, people want the best products, and they expect the salesperson to be correct in his or her advice.

A while back, a man from the area entered the store and said, "This is not a farm store." He was not happy, Annette noted.

But later, his wife came in and bought a considerable number of items and said to him back at home he shouldn't have complained. He apologized.

As for home gardening, Annette said that regular feeding of the soil is highly important. One can use worm casting, peat moss and worm casting, or gypsum. With well-fed soil, a person can grow all he or she would need for a typical family in a raised four by eight-foot raised plot.

She added that keeping the plants off the ground will prevent problems such as rust spots. Two plants - for example, tomatoes, peppers, cucumbers, lettuce, broccoli and spinach - will provide a good yield for a few people.

She has helped her daughter, Michelle Borja, start a garden, which the whole family, including Michelle's husband, Carlos, and her children, Evy and Ean, works on. Michelle lives in West Hills, Knoxville, and Annette, whose home place is on Lake City Highway, lives nearby.

Annette recommends Park whopper tomatoes and White half-runner green beans or dwarf horticulture shelly beans. Annette wisely sees her life as a learning experience - first gardening and now also merchandising. "No matter where you start your career, every step helps you grow and prepare for the next one," she said.

Annette's tips for a happy garden:

1. Prepare the soil for a good yield.

2. Don't put out so much that you feel overwhelmed - just enough for your family.

3. Plant three or four tomato plants.

4. Use Miracle-gro to feed the soil.

5. Enjoy it. Get the kids involved; let them know it is ok to get their hands dirty.