Summit's goal was get input on a variety of issues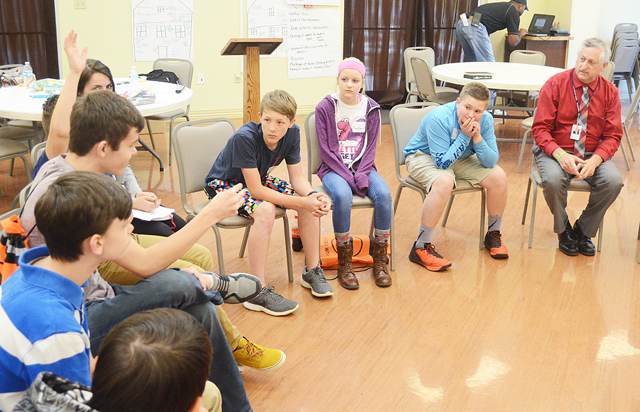 Dr. Tim Parrott (far right), Anderson County Superintendent of Schools fields questions and suggestions from county middle school students during the Student Advisory Youth Summit (SAYS) Monday at Second Baptist Church in Clinton.

Sixty middle school students (15 from each of Anderson County's four middle schools) got a chance to speak their minds about their education Monday.

The students — sixth, seventh, and eighth graders from Clinton, Lake City, Norris, and Norwood middle schools — took part in the Student Advisory Youth Summit (SAYS), part of Anderson County Schools' AWARE program.

The topics up for discussion varied, ranging from how students want to be treated by teachers, school settings, and subjects being taught inside the classroom.

Anderson County Superintendent of Schools Dr. Tim Parrott sat in on the group discussions and even took part in a round table session of "If you could ask the superintendent …"

Questions ranged from school safety to testing.

"We don't want to be taught how to take tests," one student told Parrott. "Teach us something that will help us throughout life."

Parrott responded, "I agree, but that is beyond our control. Testing is the State of Tennessee's directive, but I have been in touch with the Commissioner of Education relaying those concerns."

Several students spoke of the need for more arts and music courses (and equipment) in the schools.

Students were also asked to think of one question/suggestion they would pose to a teacher.

Again, the questions and suggestions varied and ranged from "Ask us how our day is," to "Don't talk down to us," and "Compliment us once in awhile."

Conducted by STARS out of Nashville, facilitators at Monday's summit said students from Anderson County made many of the same suggestions and posed the same questions as students from across the state — whether those students were from urban areas such as Memphis, or rural areas "you didn't even know existed."

The students ended the summit by writing a question/suggestion on an index card to Parrott. Students were asked not to sign the card, but to list the school they attended.

"I'll read every one of them, Parrott said.

He also said the school system would like to plan more SAYS days next fall — a separate day for each of the county's four middle schools.