Stan and Lydia Elliott were 'guided' to Milton Hershey School in Pennsylvania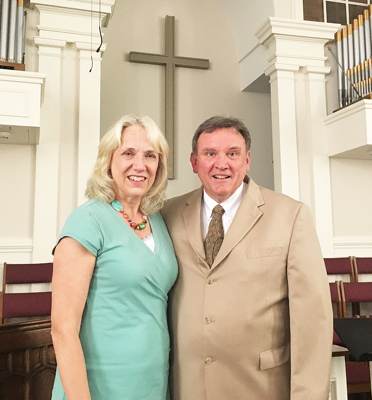 Sometimes, when we think we see clearly the path ahead, God steers us in a new direction. Suddenly, there lies before us a new way.

Think of the life of Abraham, who, with his retinue of many people and animals and goods, moved to a new area and established a new nation.

Or Moses, who led God's people from slavery in Egypt to the desert not far from the Promised Land.

Think of Sarah, who laughed when God told her she would bear a child in her old years.

They, and others, said, "You want me to do what, God?"

Something similar happened to Stan and Lydia Elliott, who now are headed for a new adventure they believe God is leading them to.

Stan has been pastor of First Baptist Church in Clinton for more than 12 years, and Lydia, until recently, was guidance counselor at Lake City Middle School.

Soon, they will become houseparents at the Milton Hershey School in Hershey, Penn.

Neither of the Elliotts, in their mid-50s, sent out resumes to seek new jobs. Stan said he expected to be at the Clinton church until he "retired or was fired—this is a Baptist church, you know," he laughed. But, God intervened.

It started with Lydia. She explained that, concerned with best practices in a school setting, she was doing a random search online and found Milton Hershey School.

Founded by the creator or the famed Hershey Bar, the school provides a year-round setting and every need for children in kindergarten through 12th grade.

"As I read, I was gripped," Lydia said. The employment part of the "website asked, Do you love working with your spouse? Yes. Do you love being at home? Yes."

Then she saw there was an opening for houseparents. "It spoke to me, and I felt who we are could fill needs there. I was very interested." So she called Stan and said, "Sweetheart …"

He admits that after she explained, he said to himself, "I'm not going to Pennsylvania, and I'm not going to be a houseparent.

"But, we believe God speaks to His children, guides, calls. When He calls, the believer says, 'God, what do you want us to do?'"

Stan related that as he and Lydia talked further about the school, God said, "Hold on a minute. Listen."

"Part of our lives since we got married has been asking, 'God, where are you guiding us?' We've been called to every place we've been."

They contacted the school. And they realized they were prepared for being houseparents. "All of my fears almost immediately were addressed," Stan said.

And he considered his role as a pastor. "How could I say from the pulpit, 'Listen, be obedient, follow?' How could I be authentic in the pulpit if I didn't do that? Go to share with these kids what we shared with everyone, our lives."

Children at Hershey are used to going to school but not to returning home to a caring environment. They have backgrounds of abuse, poverty, parents who are in prison and such. At the school, they work on coming out of such things, learning a new model: Consistency, unconditional love, a healthy home.

The Elliotts will help the children get ready and get off to school. During the day, they can do whatever they want. Then, in the evening, they will help with homework, be there for the students' various needs and assist them in getting ready for bed.

"So, to follow God is all we want to do," Stan said.

Lydia was in education for 30 years, 10 as a middle school teacher and 20 as a guidance counselor. Stan has been a member of a church staff for 36 years—as a student minister in Jefferson City, then as a pastor in Powhatan, Va., then in Clinton. The couple met when both were students at Carson-Newman College in Jefferson City, her hometown. He is from Nashville. They have two children, Amy Lyda of Raleigh, N.C., who works in television news, and Daniel Elliott, pastor of First Baptist Church, Clinton, N.C.

Extensive information on the Milton Hershey School is available at www.mhskids.org.