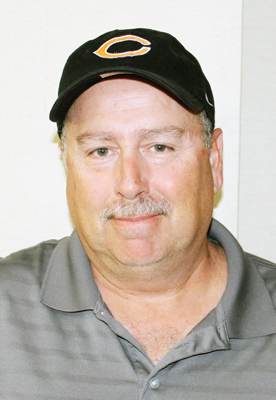 Leonard Sams is the new head softball coach of the Clinton High School Lady Dragons and he is ready to hit the ground running.

"I'm very positive energy. I stay away from the negative. We [the coaching staff] really work fundamentals so hard. We work fundamentals to a collegiate level. If any of these kids want to go to college, we want a college coach to see them and see that they are ready to go," Sams said.

"Softball is growing so fast in popularity and college coaches don't have time to take on projects. Either you know or you don't know."

He said his expectation for the team is to start where they are right now and build from there.

"I want to say to our seniors, this is our goal. We want to grow this program into a powerhouse. That's what our coaching staff does. I want those seniors to look back in three or four years and say, 'I was the start of that program.' I want them to take pride in knowing that's what they started," Sams said.

For the team, he said his approach is simple.

"You can have a softball team or you can have a softball family. There are distinct differences between the two. It's a different mentality and that's what we're going to instill in this program," Sams said.

His staff will include Adam McHenry.

"He's a very good coach. His brother played for the Pittsburgh Pirates and his daughter, who played for me, just signed a softball scholarship at Middle Tennessee," Sams said.

Nadalynn Sauceman, a former All-Conference catcher at Walters State who played on a state championship team at Greeneville.

Sauceman was an assistant at Christian Academy of Knoxville before agreeing to join the CHS coaching staff.

Sams got his start coaching rec league ball in his early twenties.

"Everybody in my family plays sports. My sister played softball and by happenstance, my dad was still coaching slow-pitch softball when slow-pitch was big. I had people ask if I would coach a team and I agreed. I think there were only three fast-pitch teams in the area at the time. Fast-pitch didn't really exist here. We started off with a slow-pitch team and converted it to fast-pitch," he said.

Sams currently coaches the 18 and under White Lightning travel-ball team which includes players from Powell, Gibbs, Halls, Union County and Nashville among others. And they play the top competition from across the nation.

"These are some of the most elite players out there and I'm very fortunate to be coaching those type kids," he said.

The 2015 District 4-3A Coach of the Year, Sams spent seven years as head coach at Bearden where he led the Lady Bulldogs to their first-ever appearance in the state tournament.

He is also the former head coach of Powell where he led the Lady Panthers to their first-ever state tournament appearance back in 2007.

In 2016, he coached the under 18 team that represented the United States in Spain.

In addition to his experience as a high school coach, Sams has roughly 25 years experience coaching travel ball in East Tennessee.

Among his former travel players is Lady Dragon's Head Basketball Coach Alicia Phillips, who played for him in the 16 and under league.

"She's one of my favorite players. She was a great player," Sams said.

As a further testament to his coaching ability, one of the people who recommended Sams for the job of head coach is Ralph Weekly, co-head coach of the University of Tennessee Lady Vols' softball program.

One of the goals of former head coach Lecia Watson was to raise enough money to build a facility to house the softball program. Sams said those plans remain a priority. He was instrumental in getting such a facility built at Bearden.

"The girls need that. They need a place where they can change and keep their equipment. Those plans are still in the works and we'll try to make that happen," he said.

Sams said he hopes to have tryouts on Thursday of this week. His first meeting with the team and parents took place Tuesday evening at the Hollingsworth Sportsplex on the CHS campus.

He said he is not sure if he will have a camp this summer due largely to lack of time before the start of the school year but he does plan to meet with the middle school team and coaches.

"We may end up doing is focusing on working with them some. I'd love to do a camp but I'm not sure we can get it done that fast," he said.

Sams said he believes in developing middle school talent.

"If we can start training them when they're young, by the time they get to high school they already have the basics of what we want and they can improve on their skills so much faster, we don't have to retrain them as freshmen and sophomores," he said.