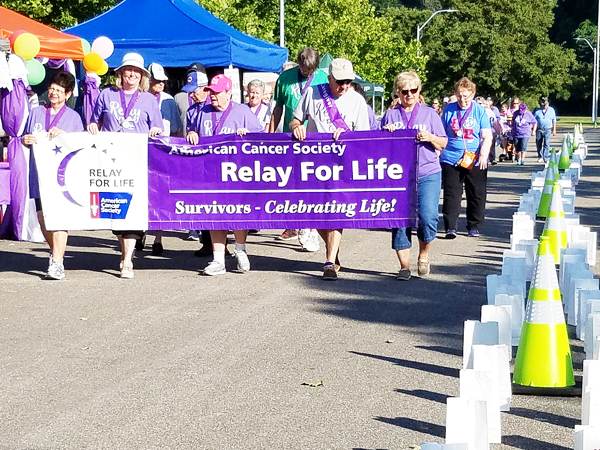 The American Cancer Society Festival of Hope event for Anderson County was held on Friday evening, June 15 at Melton Lake Park in Oak Ridge.

The event was opened with Matt Hinkin from WATE TV as the emcee. Opening ceremonies recognized more 60 area cancer survivors in attendance followed by the Cancer Survivors lap down the peninsula while being cheered on by the participants and public in attendance.

Each survivor was provided a purple cancer survivor's t-shirt and had a medallion placed around their neck by Lynda Vinyard and Kim Monroe.

Teams participating at the event included: Professional Case Management, St. Mark United Methodist Church in Clinton, Oak Ridge Veterinary, Clinton Physical Therapy Center, Fast Pace Urgent Care, Oak Ridge Baptist Church, Barry Sanders family team and Lynda Vineyard family team.

Attendees enjoyed some great music provided by Barry Jolly on acoustic guitar and the lively band, 110 in the Shade.

The Ghostbusters were also on premises to keep the kids entertained and several people participate in a karate demonstration. A silent auction held during the event provided some friendly competition and raised over $2,000.

The evening concluded with a touching luminaria ceremony at 9:30 when over 300 luminaria bags were lit in honor of cancer survivors or people living with cancer and in memory of those we love who have died from cancer.

The money raised at the event will be used by the American Cancer Society to fund research, community support programs, education programs and advocacy efforts.

Everyone in the community who participated as a volunteer, participated as a team member, donated money or just came out to enjoy the event should be proud of the part they took in fighting this terrible disease.

If you would like to volunteer to assist with future American Cancer Society events in Anderson county please contact Kelly Lenz at 457-1649.

Together we can win this battle

A special thanks to event sponsors: Powell Clinch Utility District, PCM/Professional Case Management, Clinton Physical Therapy Center, Centrus, Mortgage Investors Group, WATE-TV and WYSH radio.