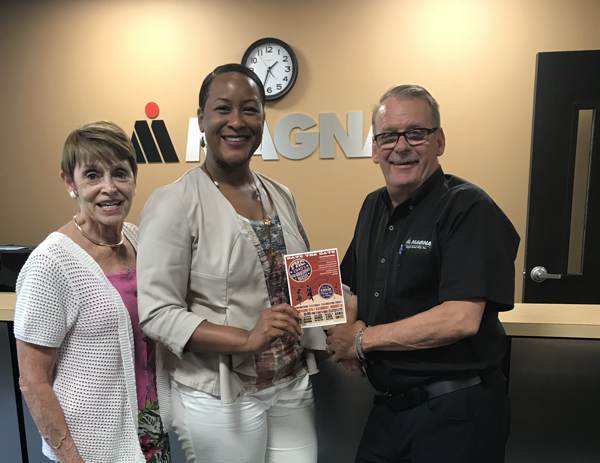 When he heard about the effort, Ed Steinbach knew he wanted to help.

He heard that last year there were nearly 5,000 visits to the Free Medical Clinic (FMC) at 116 East Division Road. He also heard that the Clinic needs money to provide healthcare to the less fortunate.

So Steinbach, general manager of Eagle Bend Manufacturing in Clinton, then offered $2,500. Eagle Bend is now one of the largest sponsors of the annual Bash, the main fundraiser for the Clinic.

FMC is a 501c3 nonprofit organization serving Anderson, Roane, and Morgan counties. Since 2010, FMC has provided primary healthcare to people who do not have health insurance and are unable to afford medical services. In 2017, FMC had 4,972 visits by 1,295 patients.

"Eagle Bend has a culture of helping, and Free Medical Clinic is a good cause. We're all part of this community and it's our responsibility to make sure our community is taken care of." Steinbach said. He and his wife, Rosena, came to Oak Ridge six years ago. "I came down from Michigan. I'll never go back," said the Emory Valley resident. "I love the weather and I love the culture."

The plant, owned by Magna Global Corporation, makes structural parts for car doors that help protect people in an accident and Steinbach said the company helps with several different organizations each year, including Girls Inc. in Oak Ridge and the pet shelter in Clinton.

"Our clients are too poor to afford private insurance, not sick enough to qualify for TnCare, and not old enough to qualify for Medicare. They now fall in the gap of lacking access to healthcare! We believe everyone should have access to quality healthcare, regardless of their ability to pay. To help keep our services free of charge, we raise money annually at our Bash fundraiser," says Jackie Clay DuBose, FMC Executive Director.

"A single person can make up to $24,120 and still be our patient," said DuBose. "Mom and dad might work part-time and not have benefits. Some people come to us between jobs. Some people are waiting to see if they get approved for disability benefits. No matter the circumstances, we want to create an environment where we help people have a better quality of life."

The community is invited to the Bash at St. Mary's Catholic School on August 11 from 5:30pm – 10:00pm. The 40s-themed evening promises to live up to its name with a "Dancing with the Stars" type contest.

Auctioneer, Bear Stephens, will call the live auction. Items include a five-night stay in Costa Rica and an authentic Indian dinner with belly dancers and henna tattooing.

"This event is so much fun," said Bash organizer and FMC board member Carol Smallridge. "It's really different from most other events".

"All of us at Free Medical Clinic are grateful to have the support of Eagle Bend Manufacturing. The average patient visit costs us about $55, so Eagle Bend's contribution will help us see 45 patients. We couldn't be more thrilled, "said Clinic Executive Director Jackie Clay DuBose.

"Nearly 800 of FMC's patients come from the Clinton area." says Bash organizer Carol Smallridge.

"We are excited to have a Clinton business sponsor of this magnitude support the Bash."

Sponsorships are still being accepted.

Tickets to the Bash are $75 and can be purchased online at www.fmcor.org. For more information call Jackie Clay DuBose at 865-483-3904.