"The courtroom is not sacrosanct. It belongs to the people just as any other part of government does."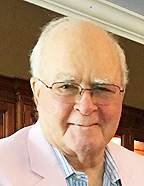 Former Tennessee Supreme Court Justice Edward Riley Anderson passed away July 4, 2018, at the age of 85. In his judicial career, Justice Anderson served three years on the Court of Appeals, 16 years on the Tennessee Supreme Court, and five terms as chief justice. During his tenure on the Supreme Court, he led the way for innovative improvements to the outreach and functionality of the Tennessee judiciary.

Anderson's father died when he was six-years old, leaving his mother to support the family and raise him and his older brother. She was forced to take a seven-day-a-week job and leave her sons in the care of a family friend, who also served as a foster parent for other children.

This experience instilled in Justice Anderson a lifelong interest in foster care. Eventually, Justice Anderson's mother remarried, and her new husband adopted Justice Anderson and his brother.

The family remained in Knoxville, and Justice Anderson graduated from Central High School in Knoxville in 1950 and enrolled at the University of Tennessee. At first, Justice Anderson considered becoming an engineer because of his interest in math. That changed one day, though, when he hitchhiked to school in the car of a local lawyer.

After law school, in 1958, Justice Anderson became the first associate at the Oak Ridge law firm of Wilson & Joyce. Frank Wilson and Gene Joyce would have a major impact on his life.

"I couldn't have had two better mentors to go to," he said. "I think it's important to have that when you're a young lawyer and you're malleable. You're going to be influenced by whoever you associate with. I couldn't have been more fortunate in my choice of mentors."

When Wilson left the firm after his appointment to the federal bench, Justice Anderson became a managing partner, and the firm was renamed Joyce, Anderson and Meredith.

Governor Ned McWherter appointed him to the Court of Appeals in March 1987. The transition was not easy after so long in private practice.

"I missed the people," he said. "I missed the association. And to some extent I missed the adversarial part of it, the competition part of it. Primarily it was the people."

Nevertheless, Justice Anderson excelled on the appellate bench. Three years later, in 1990, he was elected to the Tennessee Supreme Court, where he served until his 2006 retirement.

Justice Anderson was elected to the Tennessee Supreme Court in 1990 and was chosen by his colleagues to serve as chief justice for the first time in 1994. When he retired from the court in 2006, Anderson had served as chief justice longer than anyone else in the preceding 40 years.

As chief justice, Anderson worked to make courts open and accessible and to educate Tennesseans about the judicial branch of government.

Justice Anderson spearheaded the effort to adopt a rule permitting cameras in court proceedings. In a 2007 interview for the Tennessee Bar Foundation's Legal History Project, Anderson said, "The Supreme Court and the other courts can only survive if the public trusts the courts, and one way to engender that trust is for them to understand what we do and how we do it."

Justice Anderson also founded the SCALES program, where justices travel across the state holding court for high school students. The SCALES program, which stands for Supreme Court Advancing Legal Education for Students, has reached over 25,000 students in 460 different schools and has won numerous awards, including the 2016 Sandra Day O'Connor Award for the Advancement of Civics Education.

The Court also took steps while Anderson was chief justice to reduce unnecessary delays in capital cases. The delay-reducing initiatives included providing law clerks to trial judges; monthly monitoring by the chief justice of all capital cases; increased standards and pay for court-appointed capital case attorneys to reduce appeals based on ineffective assistance of counsel; and proposing and obtaining funding for capital case attorneys to assist trial judges.

Other notable changes that occurred during Justice Anderson's tenure include an overhaul of the Code of Judicial Conduct for judges; the adoption of a sexual harassment policy for the judicial department of state government; and the adoption of court-annexed alternative dispute resolution to settle legal disagreements without litigation.

In addition to his legal and judicial career, Justice Anderson believed strongly in the importance of civic and community service, and when speaking publicly often quoted Winston Churchill on the subject: "We make a living by what we get, but we make a life by what we give." He volunteered his time to many organizations over the course of his life, including the Oak Ridge Charter Commission, the YMCA, the Mental Health Foundation, the Rotary Club, and the Methodist Church.

When asked how he wanted to be remembered, Justice Anderson said, "I guess other people are going to select how you're going to be remembered, but I'd like to be remembered as somebody who was fair and honest and worked hard at the job."

Justice Anderson is survived by his wife Pandy; his children Colin Anderson, Karin Anderson, Scott Anderson (Teresa), and Blake Anderson (Laura); step-children, Sarah Woods, Tim Preston and Emma Woodworth; and grandchildren, Brooke, Braden, Bailey, and Ella Anderson, Sean Barrett, Henry and James Woods, Hannah and Brendan Woodworth, and Scott Wheeler.

Family will receive friends 1:30-2:30 on Saturday, July 14 at Click Funeral Home Farragut Chapel with Celebration of Life service to immediately follow. In lieu of flowers, memorials may be made to the Tennessee Justice Center, www.tnjustice.org



Editor's note: Information for this article was taken from www.tncourts.gov archives and reports.