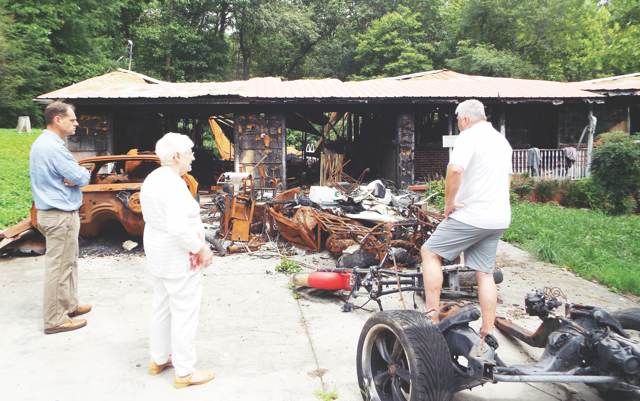 It has been almost a year since the house at 316 Sherwood Estates Circle caught fire and the remaining disarray is a constant reminder to neighbors.

The house burned down August 23, 2017 and the alleged cause was grease fire.

Now, almost a year later, the general structure remains, walls charred and windows melted and shattered, acting not only as an eyesore but a health and safety hazard as well.

"This is a major public safety issue," said Darren Stanford, a retired Air Force officer.

"Besides how treacherous it is, there are other environmental hazards as well."

One of those hazards is the occupation of large rats in the abandoned house.

An above ground pool in the back yard was left with stagnant water in it, leading to mosquito problems.

"I cannot understand how the county can let something like that sit as a public safety hazard for so long," said Stanford.

A notice of violation wasn't put on the house until May of this year, nine months after the home burned.

He also mentioned that this isn't the only property that has burned down and been left alone in Anderson County, most notably a house at 602 Foust Carney Road which burned down around two and a half years ago.

Tracy Wandell, Anderson County Commission member, stated that he knows of three properties in the same state of disarray around Anderson County.

"I've lived all over the world and this is like a third world country. Knox County isn't like this. Campbell County isn't like this. The only place I have seen stuff like this is in Afghanistan, with bombed out mud huts. And this is more dangerous because a mud hut isn't going to collapse in on you," said Stanford.

"My heart goes out to the families that had the loss of their property but now you're talking about every other home owner's property value plummeting," said Stanford.

When the fire occurred, there were no fire hydrants in the neighborhood, making the extinguishing efforts more difficult.

Since then, Stanford has allowed the county to put a hydrant in his yard.

Stanford stated that he believes the first step should be installing a physical barrier, such as an eight – foot chain link fence, to keep children and animals out.

Wandell said, "You have my word that I'll work my butt of to get this resolved. That's all I can say. I'll reach out to Jay Yager, I'll reach out to zoning. I'll reach out to the Mayor and I'll also reach out to the state."

Stanford said, "The county would be well advised to take active steps to have procedures in place so that when house fires occur, and they will, the homeowners can be told a timeline they have to meet and the consequences if they don't. There don't seem to be any meaningful consequences right now."

Stanford mentioned to Wandell that he'd spoken to David Crowley of Zoning and Codes Enforcement and had only received "confusing" and "non – committal" answers.

Wandell mentioned that Commissioner Jerry White, head of the BZA Board for the County very likely hadn't had this brought to his attention but that he would alert White.

Wandell also added, "We just had another issue in (White's) district, not with a burned out house but zoning was on a fellow that had built a building for weddings and they're making money and everything is going great. Well, the zoning is going to shut them down because the guy that's complaining is a friend of the Mayor's. We can stuff done like that but we can't fix this. That's what bothers me and that's wrong."

Another issue neighbors have is with the amount of large, burned metal objects and garbage in the driveway and yard.

"This is more than just an isolated complaint from a small batch of neighbors," said Stanford, "but speaks to Anderson County and what type of place we want Anderson County to be. My larger concern is that we have procedures in place to deal with these kind of crises when they occur."

At the County Commission meeting Monday, July 16, Wandell brought to the attention of the public that the County, specifically zoning, is working to alleviate this situation.