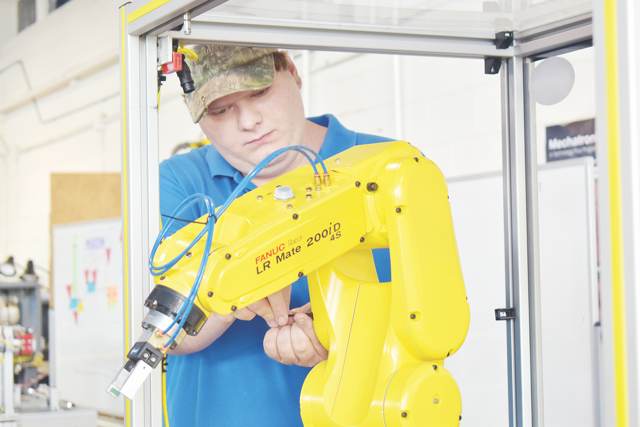 The first group of Roane State students in the community college's mechatronics program attained an 80 percent pass rate in a tough exam to earn the Siemens Level 1 Mechatronics Systems Assistant certification.

Twenty of the 25 students passed the test and received the certification, said Dr. Markus Pomper, dean of Roane State's Division of Mathematics and Science.

"We are all very excited about the pass rate," said Guilherme Garcia, an instructor in the program. The mechatronics program is taught at the college's Higher Education and Workforce Training Facility on Nave Street in Clinton.

Mechatronics involves maintaining and troubleshooting advanced manufacturing equipment.

"The Siemens Level 1 examination is an international recognition of our students' ability to troubleshoot and maintain advanced manufacturing equipment," Pomper said.

The exam tests students' ability to use documentation in order to localize and identify the causes of equipment malfunctions.

"I'm very pleased with the pass rate on this rigorous exam," said Gordon Williams, Roane State's mechatronics program director. He is already making plans to improve courses in the next year and hopes for an even higher pass rate.

Student Mark Hampton said he's quite satisfied with the quality of the program and is proud of having passed the Siemens examination.  "I definitely learned a lot," he said. Mark now works at Sauter Timber LLC in Rockwood.

Fellow student Jacob Charckon echoed this sentiment. "It was really fun; more than I expected," said Jacob, who is now employed at the Protomet Corporation in Oak Ridge and also passed the Siemens Level I exam. 

The Siemens Corporation is the largest industrial manufacturing company in Europe. It also operates a technical academy, whose training approach is grounded in the renowned German system of technical education. The Siemens Exams are aligned with the academy's training standards.

For more information, contact Gordon Williams at williamsg1@roanestate.edu or 865-354-3000, extension 4899 or visit roanestate.edu/mechatronics.

Remember, eligible adults can now attend Roane State tuition-free with the new Reconnect grant.

Learn more at roanestate.edu/reconnect.