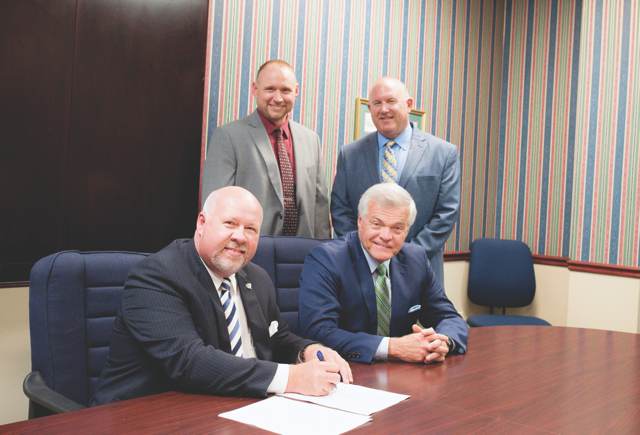 Classes for students to become chemical operators begin this fall at Roane State Community College, and a $67,688 grant to help pay for needed training equipment has been awarded.

Officials with the U.S. Department of Agriculture joined Roane State President Dr. Chris Whaley in signing the contract for the Rural Business Development Grant.

The new chemical operator courses are part of the college's flexible, two-year general technology degree. Evening classes will be held at Roane State's Oak Ridge Branch Campus and at the college's Higher Education and Workforce Training Facility in Clinton.

The training will also include six Saturday lab sessions at the high-tech WACKER Institute at Chattanooga State Community College.

A chemical operator monitors, controls and troubleshoots automated chemical processes. The work environment can range from processing uranium at the Y-12 National Security Complex in Oak Ridge to making bulk food products, such as high-fructose corn syrup.

"The need for training in chemical operations was brought to our attention by our industry partners," Dr. Whaley said. "This grant is the reason we're going to be able to offer this program now."

"It's very exciting that we can help with Roane State's educational format," USDA State Director Jim Tracy said. "That's what we're all about — improving educational opportunities in rural areas."

"This will allow us to purchase the technical equipment that's required to give students the specialized skills they will need," said Dr. Diane Ward, Roane State's vice president for student learning.

The grant will pay for pressure control panels and analytical control panels as well as other training equipment.

"We greatly appreciate the USDA's support for this new training," said Dr. Markus Pomper, Roane State's Dean of Mathematics and Sciences. "Our training will help applicants for coveted chemical operator positions stand out from the competition."

USDA Area Specialist Chuck Morris said the grant will give Roane State students the opportunity to land high-paying jobs.

For more information, visit roanestate.edu/chemtech or contact Gordon Williams at williamsg1@roanestate.edu or 865-354-3000, ext. 4899, or Jack Parker at parkerja4@roanestate.edu, (865) 354-3000 ext. 4891.

For more information regarding USDA Rural Development programs in the Knoxville area, please contact the Knoxville Area Office at (865) 523-3338 ext. 4

Remember, eligible adults can now attend Roane State tuition-free with the new Reconnect grant. Learn more at roanestate.edu/reconnect.