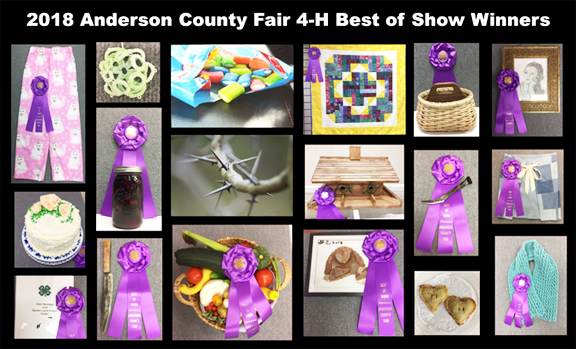 4-H boys and girls in 4th-12th grades showcased their project skills by entering nearly 500 entries in sewing, quilting, knitting, baking, canning, gardening, photography, art, crafts, woodworking, and science & technology.

Top exhibitors earned 1st - 3rd place honors in each lot. Additionally, Best of Show honors were awarded in each division, which were sponsored by John's Tire & Service. The 2018 4-H Best of Show winners are:

Art – Bonnie Chandler, Gideon Chandler

Baking – Sierra Brown, Bonnie Chandler

Canning – Elizabeth Troyna

Crafts – Madison Scarbrough, Levi Scarbrough

Crops – Avery Chandler

Home Improvement – Leigha Mozingo, Kaylee Davis

Knitting, Weaving & Crocheting – Kaelin Cox, Kaylee Davis

Photography – Summer Wilson, Hazel Hensley

Science & Technology – Riley Mozingo

Sewing – Jordan Bowling, Brianna Weber

Woodworking – Kaylee Davis

Behind most of the exhibits is a volunteer helping 4-H'ers develop the skills needed to make the project. As 4-H prepare for next year's fair, the organization is looking for adult and teen leaders to help teach once-a-month project activities this fall.

If you are interested in learning more, call Donna Carter, 4-H Extension Agent at 457-6246.