(And that's a good thing)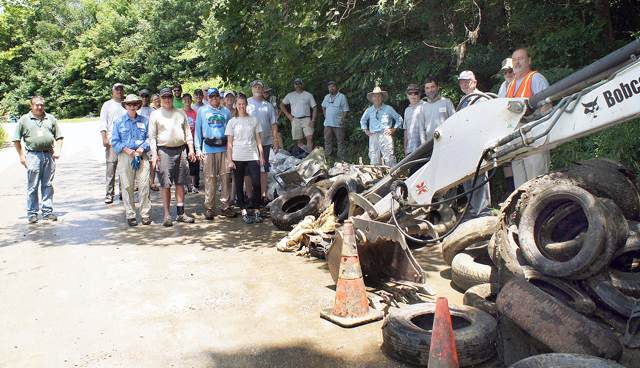 After six years of concerted effort, the hundreds of volunteers who've labored during the annual Big Clinch River Cleanups hosted by the Clinch River Chapter of Trout Unlimited are beginning to see some results.

They're not finding as much trash in and along the river between Norris Dam and the Highway 61 bridge.

Rusty Hallett of Norris, chairman of this year's cleanup, says 2,000 pounds of trash including 60 tires were pulled from the river and its banks in the sixth Big Cleanup on July 22—less litter and fewer tires than last year. "Maybe we are making some progress!"

The communitywide cleanup has been organized each July since 2013 by the Clinch River Chapter; a grant from the Tennessee Valley Authority covers costs including the day's opening breakfast at the Museum of Appalachia.

Some statistics from the cleanups follow:

• In 2013, the inaugural year, 78 volunteers collected 70 tires and two pickup loads of trash.

• In 2014, 105 volunteers gathered 257 tires, 45 bags of trash and two pickup loads of metal.

• In 2015, though the river was very muddy, 106 volunteers managed to find 70 tires plus 89 bags of trash and 1,600 pounds of metal.

• In 2016, on a viciously hot day, 100 volunteers pulled in 106 tires plus 72 bags of trash and 1,000 pounds of metal.

• In 2017, 107 volunteers collected nearly 100 tires, 71 bags of trash and 2,000 pounds of other junk.

• In 2018, although heavy rain the night before had kept some registered volunteers home, 89 workers found more than 2,000 pounds of trash including 60 tires.

So far, the cleanups have concentrated on the part of Clinch River tailwater that's most heavily used by the public—between the dam and the Peach Orchard boat ramp. As the quantity of tires and trash in that section continues to decline, the area of focus can be expanded to include more areas downstream. In addition to TVA, sponsors of the 2018 Big Cleanup included Anderson County government (solid waste department and the mayor's office); area ham radio operators; Clinch River Brewing; Holm Construction; Keep Anderson County Beautiful; Museum of Appalachia; Steve and Kathy Stout; and Tennessee Wildlife Resources Agency.

The Clinch River Chapter works hands-on to ensure the health of the Clinch River tailwater. Big Cleanup supports two of the chapter's central goals: protecting and enhancing the biological health of the tailwater and its watershed, and raising public awareness of the river's economic and ecological significance.