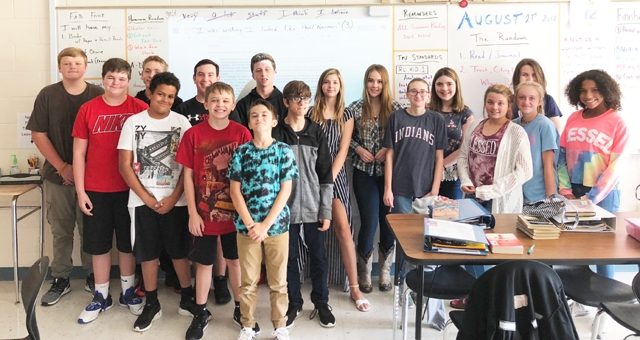 We're back.

Ready to take on a new school year and year two of Hawk Talk, a student-centered newsroom dedicated to showcasing all the happenings at your hometown middle school.

This Hawk Time Enrichment class is led by 8th grade ELA teacher, Kevin Powers, but the students are doing the real work.

Based on the students' favorite things about Clinton Middle, Mr. Powers split the class into five teams. These teams will generate the content to be shared with "Courier" readers each week.

You will find short pieces below related to areas of learning and fun in our building from Classes and Sports to Hawk Life, Student Spotlight, and our new focus on College & Career awareness.

The Hawk Talk staff is adamant that we have the best teachers around; therefore, once a month there will be a Teacher Spotlight.

Showcasing a wide variety of the positive happenings at CMS is Hawk Talk's first priority.

Introducing the 2018-2019 Hawk Talk Staff

The Classes team will cover stories related to goings-on, projects in Academic and Related Arts courses, including Teacher Spotlight. The Classes staff is Hunter Evans (Editor), David Holguin, and Noah Weeks.

The Hawk Life Team will cover and promote school events (non-athletic), field trips, and school fundraisers. The Hawk Life staff is Jackson Brewer, Laila Cox, Tanyan Pollard, and Jacen Pride (Editor).

The College & Career team will cover stories related to all things College and Career Academy, including Advisory, GearUp, college and career related activities and field trips, as well as clubs. The College & Career staff consists of Catherine Meredith (Editor), Emilee Metcalf, Kira Murphy, and Tara Pickel.

The Sports section will cover current sports stories and spotlights athletes each month. The Sports staff is Preston Duerr (Editor), Camden Leon, and Dawson Woodard.

The Spotlight team will focus its energies on the monthly Student Spotlight bulletin board and will interview teachers for bulletin board pieces and will write the Future Leader column once-a-month.

The Spotlight staff is Mia Baylis, Sara Duncan, and Marissa Eccles.

We all look forward to reporting for you.

Advisory program builds bonds

The changes this school year brings new programs to Clinton Middle School, now a College & Career Academy, which simply means we do everything with a focus on our future.

One of the changes is the addition of an Advisory period that meets every Wednesday.

Candus Claiborne, Teen Living teacher and Advisory Director, says that Advisory is a class designed to "build relationships, and get to know one another. So it's like calibrating."

Advisory is designed for students to have a safe place to go, and to help the build bonds with other students.

In Mr. Jonathan Lewis' Advisory class, students have an enjoyable time playing games, and discuss college options.

In Ms. Ginger Heiskell's class, students spend their period getting to know each other, and designing exciting games to play.

The Advisory classes are, first and foremost, to create a name, logo, and a game that may be selected for our first Pep Rally.

Advisory is a way for students to come together, make new friends, and dive into some friendly competition.

Culinary Arts now cooking

We are pleased to introduce the new Culinary Arts program to Clinton Middle College and Career Academy.

In Culinary Arts, the students will be learning about kitchen safety and sanitation, recipes, knife skills, cooking methods, food trends, nutrition, culinary history, meal planning and more.

Culinary Arts students will have the opportunity to learn the skills needed to cook both at home and in the commercial setting.

Students will also have the opportunity to participate in lab experiences, where the students will be cooking at school.

The new program will raise money for lab experiences through teacher staff lunches, selling house made food products and a biscuit and gravy breakfast.

Hawk Talk staff spoke to Culinary Arts instructor, Ms. Sydney Basler, who said, ¨I am excited for the new program. It will be fun to see the students learn about cooking here at school.¨

We look forward to a year of fun and learning in Culinary Arts.

Gear UP Back at Clinton Middle

Here at Clinton Middle College and Career Academy, we have a special opportunity called the Gear UP grant.

This grant will help students to follow their dreams and passions in life by providing resources on what's out there after high school.

One student, Chase Glandon, a Hawk student-athlete, said, "The Gear UP grant could show me new ways to train my body and mind."

Gear UP is an acronym for Gaining Early Awareness and Readiness for Undergraduate Programs.

Anderson County Schools was fortunate enough to receive this massive grant of nearly one million dollars, which will follow the current 8th grade class through high school as well as each graduating class at CHS over the next six years.

Angela Merryman, coordinator of GEAR UP, will use a passion for education and helping students to help them navigate high school and the world of post-secondary education.

Please email Mrs. Merryman at amerryman@acs.ac for more information.

Until next week...