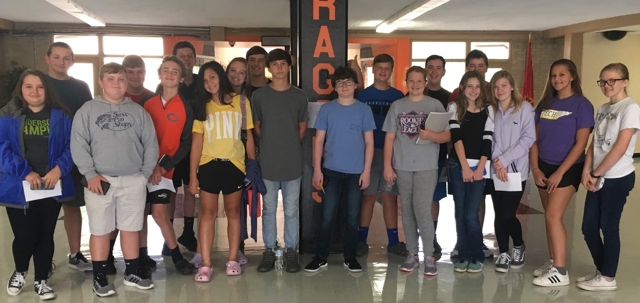 Back again! With more stories from the halls of YOUR hometown middle school.

You will find short pieces below related to areas of learning and fun in our building from Classes and Sports to Hawk Life, Student Spotlight, and our new focus on College & Career awareness.

Showcasing a wide variety of the positive happenings at CMS is Hawk Talk's first priority.



8th graders show up for ACT practice

Catherine Meredith, Kira Murphy, Tara Pickel, and Emily Metcalf

The current goal of every 8th grade teacher is to prepare students for high school.

One of the many challenges of high school is making the right scores on the ACT.

On Saturday, August 25th, twenty 8th grade students rose to the challenge and took a practice ACT test at Clinton High School.

Here are 8th grader Addison Del Carmen's thoughts on the experience:

"The ACT was definitely an experience I will never forget. I believe every student should take every practice that the Anderson County School system provides for free.

"I know a lot of students believe that they don't need to take the test this early, but high school is just next year!

"In my experience the ACT was very stressful, even the practice was very serious and intense. In the past, I've learned the more prepared that you are the more easy obstacles come.

"Honestly, I was stressed the entire time, and I feel like I was unprepared to answer 65 questions in 40 minutes, but I think that's just something I have to get used to. I will most definitely be taking any and all future ACT practice tests.

"Practice makes perfect or at least progress!"

There will be many more opportunities for students to take the practice ACT as the year progresses.



Homecoming week recap

Jacen Pride, Jackson Brewer, and Tanyan Pollard

Here at Clinton Middle School we go above and beyond with our Spirit Week by showing all our Hawk Spirit (and colors).

Each day last week, Hawk students and staff took on a theme and dressed to the max. On Monday, we celebrated Superhero Day, dressing up in costumes with capes or even superhero t-shirts.

On Tuesday, it was Patriot Day, in which students and staff wore the colors of the flag. Wednesday was Twin Day. Students dressed up with their best friends.

On Thursday, it was the first annual Clinton Middle Color Wars.

Each grade level represented a different color: black for 6th grade, orange for 7th grade, and white for 8th grade.

The Homecoming festivities went off without a hitch at the game Thursday night. The Princesses and their Queen were crowned.

Congratulations are in order for 6th grade princess, Ashaunti Davis, and 7th grade princess, Emily Powell. The runner-up for Homecoming Queen was 8th grader Bella Phillips.

The top prize and title of Homecoming Queen this year went to 8th grader Addison Del Carmen. The Homecoming court ceremony was a welcome addition to the football Thursday as the Hawks went on to get a big win over Lenoir City, 22-6.

Finally, Friday brought a bit of a beachy spirit as we celebrated Hawaiian Day in preparation for Friday night's first school dance of the year, a Luau.



Everyday atoms in 7th grade Science

Hunter Evans, Noah Weeks, and Cooper Ray

This week in our classes something pretty interesting happened.

The 7th grade Science classes have done an enormous project on atoms.

It worked like this: students interacted with normal supplies they would find in their home to make a model of an atom to be presented as a show-and-tell in their science classes.

Noah Weeks, a Clinton Middle 7th grader, said, "It was an amazing way for us to learn about atoms hands on with our amazing teachers and friends, it was a very fun project."

It is quite amazing that our students go in such detail about the tiniest building blocks of life.



Until next week...