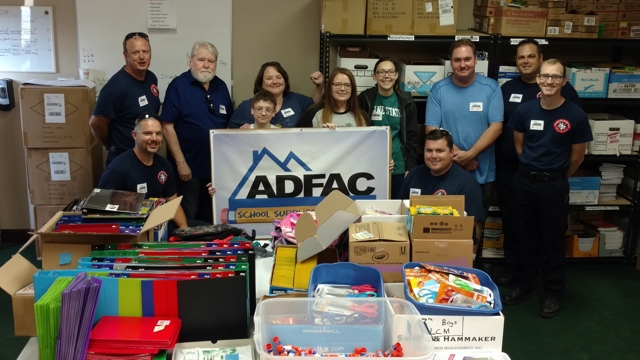 ADFAC's self-proclaimed "School Supplies Sisters", Becky Hook and Theresa McKenrick, are changing lives one backpack at a time. From personal experience as former educators, the "School Supply Sisters' truly know the importance of this program and is the key to their commitment and passion for this program.

The ADFAC School Supply Program, currently in its 29th year, supports families in the community by providing backpacks to students from preschool to high school. This year 3,612 students in Anderson County, Clinton City, Oak Ridge City and Morgan County started the 2018-19 school year with the supplies they needed.

Becky Hook, School Supply Coordinator, stated, "We could not have accomplished this goal without the support of over 250 volunteers willing to donate their time by inventorying, packing and distributing backpacks. We are so grateful to our community for the support they have given this program. We know the importance of a student beginning the year with the right tools to be successful. Every effort is made to ensure the recipients have the same materials as every other student in the class."

School Supply Volunteer Coordinator Theresa McKenrick, emphasized, "It has been proven that education is the key to breaking the cycle of poverty. It is our hope that we can help families become more self-sufficient and this is a beginning step in that process. I have witnessed the importance of having students begin the school year with a good attitude for learning and having the right materials definitely contributes to that process."

Planning is the key for supplying for so many students. But even more important than all the careful planning is the support received from many partnerships. At the top of that list is the Free Medical Clinic of Oak Ridge, which subleases space for ADFAC's School Supply Program's yearlong storage which is necessary as products are purchased whenever sales occur.

Each spring, schools provide supply lists, and the number and grade level of students needing supplies. Volunteer groups pack and deliver the backpacks to the schools during the summer so they can be distributed to the students before school begins.

How does ADFAC know this program is having a great impact in our community? Educators and parents who really know the need have responded as follows:

"This program is a great support to our families; many of our families are single parent families or grandparents raising their grandchildren or in some instance great-grandparents on fixed incomes and this help is desperately needed."

—Rhonda Cross, Grand Oaks Elementary School Counselor.

"The new backpacks make children feel welcome in our school. We would not be able to afford this luxury for students if it were not for ADFAC. It always puts a smile on the children's faces."

—Beth Roeder, Andersonville Elementary School Principal.

"Parents have been extremely appreciative for the supplies. The students are just excited about getting school supplies as they are for Christmas."

—Jenna Sharp, Clinton Elementary School Principal.

"This is so helpful for our staff! We were spending our own money to buy for the kids."

—Ashley Sutton, Norwood Elementary School Counselor.

"I would just like to say how incredibly grateful my girls were to receive the backpacks that you put together for them! I bought four of the girls with me to pick them up at the office and their faces just lit up. When we returned home, my oldest, was so ecstatic and went on an don about those cool colored erasable pencils. Thank you for having such a variety of colors and styles of backpacks. It makes them anonymous in receiving something that wasn't all the same. Thank you for blessing us!"

—Oak Ridge Parent

Please visit www.adfac.org to learn more about the organization or to make a monetary donation.