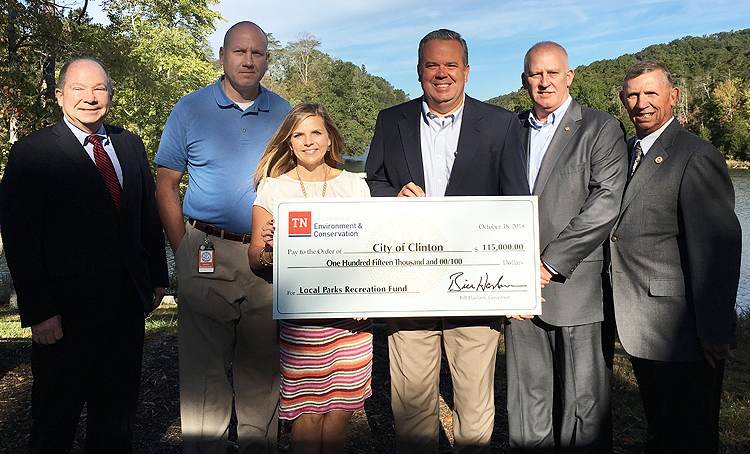 On Thursday, Oct. 18, Mayor Scott Burton, City Manager Roger Houck, Parks and Recreation Director Jason Brown, and Christina McNally received a grant check from the Tennessee Department of Environment and Conservation at Big Ridge State Park.

The City of Clinton was awarded a $115,000 matching grant for the South Clinton Inclusive Playground through the Local Parks and Recreation Fund.

The LPRF grant program was established by the Tennessee General Assembly in 1991 to provide local governments with funds to purchase land for parks, natural areas, greenways and recreational facilities. Grant recipients were selected through a scoring process with careful consideration given to the projects that met the selection criteria and expressed the greatest local recreation need.

"Easy access to parks, trails, walking paths and other recreational facilities can make a good community a great community," said Haslam.

"These grants provide the resources needed to help make Tennessee an even more desirable place to live, work and raise a family."

Renovations on the South Clinton Park bathrooms and pavilion are already completed. Installation of the inclusive playground equipment will be completed spring 2019.

If you would like to be a part of the project, you can personalize a brick to help finish funding the walkway from the bathroom to the playground. Bricks can be purchased online at www.fundraisingbrick.com/online-orders/southclinton/ or by mailing the order form.

The brick fundraiser runs through November 27.