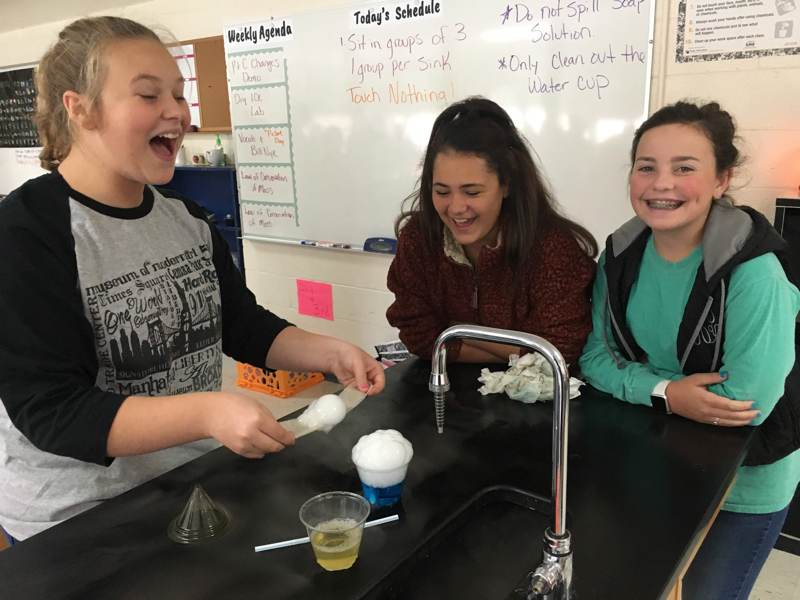 Back again! With more stories from the halls of YOUR hometown middle school.

You will find short pieces below related to areas of learning and fun in our building from Classes and Sports to Hawk Life, Student Spotlight, and our new focus on College & Career awareness.

Showcasing a wide variety of the positive happenings at Clinton Middle School: College and Career Academy is Hawk Talk's first priority.



A Kind of Alchemy

Guest Contributor, Ms. Kelli Hansen

Success in middle school requires a sort of Alchemy. Recently, 7th Grade Science classes spent the day connecting to their Social Studies and ELA curricula. Students learned a little about Alchemists from medieval times while also getting hands-on experience with States of Matter and Sublimation.

Blending our learning together through connecting themes and ideas across the curriculum is one of the main goals we have as Clinton Middle in order to continue to achieve academic excellence. Plus, it's always fun to play with dry ice (see photos).

If you would like to know more about what's going on in Science classes at Clinton Middle or if you'd like to contribute to our Science programs in any way, just ask. You can reach out to Ms. Hansen at khansen@acs.ac.

Dancing for literacy in A Nightmare on Hicks Street

Catherine Meredith, Emilee Metcalf, Kira Murphy, and Tara Pickel

Students recently got into the spooky spirit at CMS!

On Friday, October 26th, CMS hosted a spectacular Halloween bash called A NIGHTMARE ON HICKS STREET!

April Meyers, a lead organizer of the dance, tells us, "The Halloween dance was spooktacular. Teachers and students alike dressed in amazing costumes and took time to have so much fun, it was scary."

Our wonderful lead organizer also included, "The VIR (very important reader) room saw several visitors and because of the generosity of Zion Baptist Church's volunteers, ticket numbers were randomly called throughout the night for students to visit the VIR room and enjoy cake, chips, and a drink. We had 176 students in attendance and the fund for Forty Book Challenge incentives was increased by $800!!"

With cake, drinks, costumes, dancing, and all around fun, CMS students had a blast at this spooky dance! Attendance was amazing, and the funds for the Forty Book Challenge got a great boost.

A big thanks goes out to Zion Baptist Church for your generosity and volunteers!



Hawks to Give Thanks with food for area families

Jackson Brewer, Jacen Pride, Tanyan Pollard, and Ethan Slaven

Hawks Helping Others, our hard-working community service club at Clinton Middle is back at it again!

The club is starting up a canned food drive for CMS community families, so all of us may have a great Thanksgiving meal.

Amber Shelton, an 8th grade leader in the club, said, "It just feels good to help the families around our school."

"It's good to help people," said 8th grader Bianca Newcomb, "we are hoping to get more than last year."

The club hopes to get enough food to put together Thanksgiving Food Basket for 25-30 area families.

All of the grade levels are competing to see who can bring in the most donations.

The end date for the donations is Nov. 16.



How Advisory is Going

Catherine Meredith, Emilee Metcalf, Kira Murphy, and Tara Pickel

Here at Clinton Middle, we have continued on our Advisory journey.

At the moment, all students have all been setting goals and looking at jobs/colleges.

Mr. John Land, a seventh grade teacher, says, "We have been talking about the importance of grades and exploring personal values."

Mrs. Stacey Turner, a sixth-grade teacher, reported, "We have been talking about values and checking grades as well as attendance. We have also been checking www.collegefortn.org and setting up goals."

In 8th Grade, students are completing a study of the book "7 Habits of Highly Effective Teens."

The Advisory classes are going well, and the goal is to grow as people and to grow in building up our local communities as we look ahead at starting community service projects.